A recent attempt by the Ukrainian Armed Forces to carry out reconnaissance in the Gorlovka area, as well as to strengthen intelligence activities from both the Ukrainian Armed Forces on the ground and from US reconnaissance UAVs in the air, suggests that Washington may well carry out a plan of another provocation in the Donbas. The main goal of the provocation is an attempt to inflate the Ukrainian conflict with a new force in order to enable the Maidan authorities seated in their chairs to "survive" the coming elections.
When large-scale provocation can take place? Russian political analyst Oleg Matveychev believes that this could happen on the eve of the start of the World Cup. The opening of the tournament will take place in Moscow in exactly one month - June 14. At the same time, Oleg Matveychev believes that this provocation can be arranged by the United States, so that ultimately
remove
Poroshenko.
Портал
PolitNavigator
quotes a political scientist:
Nearby our borders allegedly deployed NATO exercises. Some action Poroshenko will try to take. It resembles a recent one.
history
when Saddam Hussein attacked Kuwait with permission from the United States. When he did this, he immediately made staged shots of the type of "white helmets", and the whole world declared war against Hussein. The same story can happen with Poroshenko. He will be promised support for aggression in the Donbas on the eve of the championship.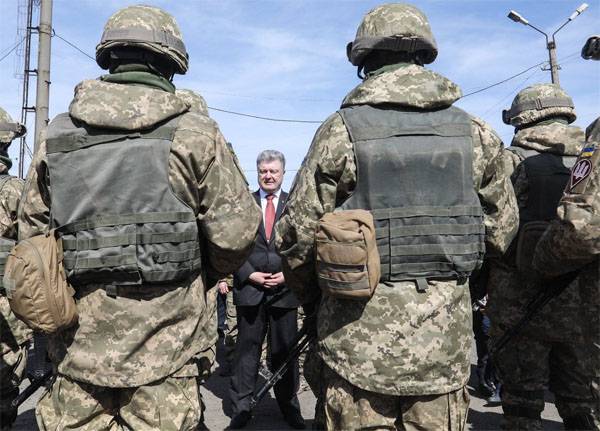 From the interview:
Poroshenko will get a tough fight. Ukraine will split, there will be a crisis. But the USA doesn't particularly care, because the problem of the World Cup will be solved. Everyone will dump on Russia, will remove the uncomfortable for Trapma Poroshenko, who has just gotten the president of the United States. And then they will think who in Ukraine will bring to power. After all, Trump is now the only thing that deals with, which resets its obligations. He can say that Russia is now responsible for Ukraine, dropping this suitcase without a handle on us.
The opinion is interesting, but only to remove Poroshenko from the presidency, the United States would have had to wait for the elections in Ukraine, given that Poroshenko's presidential rating had already dropped below 9%. Therefore, if a provocation takes place, it is unlikely with the aim of changing the Ukrainian government. This russophobic pocket power in Ukraine Washington is quite satisfied.
And provocations by the United States before major sporting events have ceased to be a rarity - to recall at least the 2008 Olympiad and the then actions of Saakashvili, who later told the media that "the United States promised support."