This topic appeared, so to speak, at the request of the workers, as a continuation
Articles
on the military economic value of urine.
Some commentators, who were not serious enough about the question, sneered:
"But I also propose to collect liquid chairs separately. You can't make explosives out of it, but if it is poured onto the heads of the enemy, like a napalm tank, the demoralizing effect will be incredible. "
The most interesting thing is that this commentator is not right: explosives, or rather, the most important raw materials for its manufacture, can also be obtained from shit. And we are talking about trotyl - one of the main and most common types of military explosives.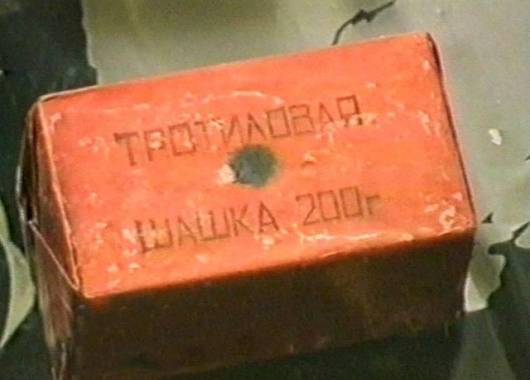 Well-known to many TNT
TNT, or trinitrotoluene, like many military chemicals, was given to us by the Germans. This substance was discovered in the 1863 year, but its properties as an explosive were studied in the 1889 year by Karl Heussermann. In 1901, the German company Dynamit Nobel AG opened the first plant in Schlebusch (now part of the city of Leverkusen, near Cologne). Already in 1902, TNT went to replace picric acid in shells and hand grenades. TNT, as a fairly powerful explosive, but at the same time with a very low sensitivity and ability to melt at a temperature of 80,1 degrees, quickly became one of the main types of explosives used for military purposes. Production of TNT in the war reached colossal quantities. For example, Germany during the Second World War produced 18 thousand tons of TNT per month, while total production exceeded 800 thousand tons.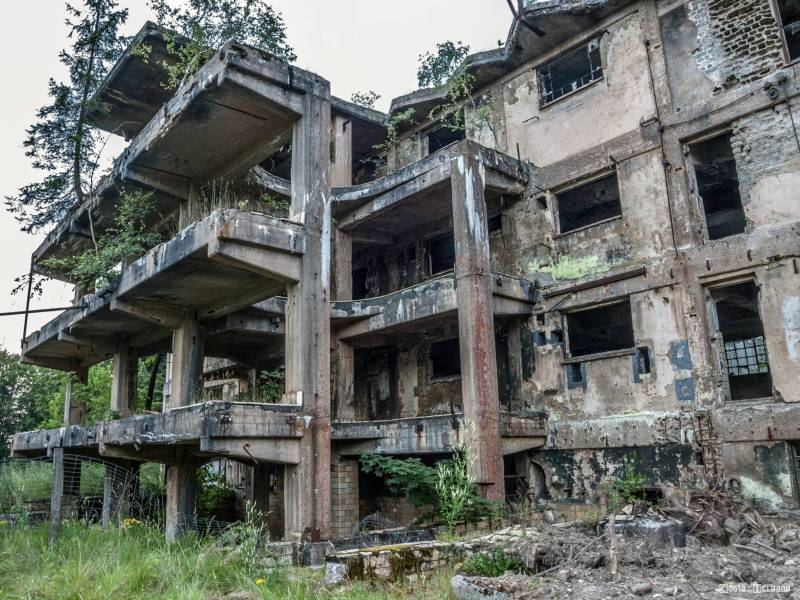 One of the surviving buildings of the factory for the production of explosives and shells in the vicinity of the small town of Hessisch Lichtenau, near Kassel. In secret documents it was known under the code name Friedland. From 1938 to 1945, the year 118,6 thousand tons of trotyl and 5,6 thousand tons of picric acid were produced here.
Raw materials for the production of TNT - toluene, obtained from petroleum, the process of catalytic reforming of gasoline fractions. This is the main method of obtaining a product, which in a peaceful economy is mainly used as a solvent. In small quantities, toluene can be obtained from the resin formed during the coking of black or brown coal. In Germany, both methods were used to produce toluene. But since there was little oil, and tar was used in large quantities to produce synthetic fuel, in Germany toluene was obtained by alkylation of benzene, another coking product of coal. The reaction also involved methanol and a catalyst.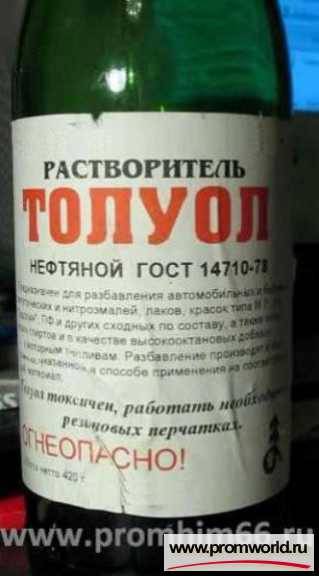 Toluene - the main raw material for the production of TNT, looks quite harmless: colorless, mobile and volatile liquid, usually used as a solvent
This is one of the typical military technologies: quite complex, with a relatively low yield of toluene, but it allowed turning benzene into raw materials for the production of explosives, which was produced by chance in the production of coke and was used only as a motor fuel. Perhaps the Germans would have developed this technology, but they were clearly restrained by the lack of methanol, which in those years was obtained by dry distillation of wood, and this raw material in Germany was also not enough.
How much TNT will come out of shit?
Since all facilities for the extraction, processing and transportation of oil are included in the list of priority goals, it is necessary, in the event of a large and prolonged war, to be morally and technically prepared to remain without oil (or with a very small amount of oil). From this it follows that there must be technologies for obtaining the necessary substances and materials from some other raw material, which in any case will be available. Well, for example, manure.
It just seems incredible and impossible. In fact, it is quite possible to get the same toluene from this manure. Or, more broadly, from wastewater treatment waste, both from the city sewage system and from various animal breeding enterprises. Moreover, the difference between these types of waste is quite small.
The chemical composition of manure ... Yes, in agronomy, the chemical composition of manure is studied very carefully due to the fact that this is the most common organic fertilizer and you need to know exactly the content of nutrients for plants in it. So, the chemical composition of manure is as follows: 65-77% (depending on the type) - water, 20-30% - organic matter. A small residue is distributed between various substances that are useful for plant nutrition: nitrogen, phosphoric acid, potassium, lime, silicic acid. Their content is relatively small, say, phosphoric acid 0,2-0,3%.
For military chemical needs, the most interesting part is made up of organic substances, which are a complex conglomerate of various hydrocarbon compounds - food debris. Using pyrolysis, that is, thermal decomposition into simpler hydrocarbon compounds and simple substances (such as hydrogen, carbon monoxide, carbon), raw materials for the production of explosives can be obtained from this organic residue.
Typical pyrolysis installation. The photo clearly shows its main parts: a horizontal retort for pyrolysis with a loading hatch (right), a heating device with a supply of pyrolysis gas as fuel (along the yellow pipe), pipes for discharging pyrolysis products and capacitors (left).
The pyrolysis of wastes from livestock factories is a technology that is not very common today, but it has already been sufficiently developed to judge its capabilities. When heated to 400-500 degrees, the waste during pyrolysis decomposes into three main fractions: gaseous (usually a mixture of hydrogen, carbon monoxide and methane), liquid pyrolysis liquid, and solid carbon residue. The specific yield of products depends both on the nature of the material being processed and on the pyrolysis mode, but approximately the gas fraction is about 30%, the liquid - 35-40%, the rest is solid carbon.
Pyrolysis liquid, otherwise called synthetic oil, is a mixture of hydrocarbon compounds, in color and consistency very similar to fuel oil or heavy diesel fuel. It can be distilled, like oil, and a number of other products can be obtained from it: gasoline, kerosene, diesel fuel, etc.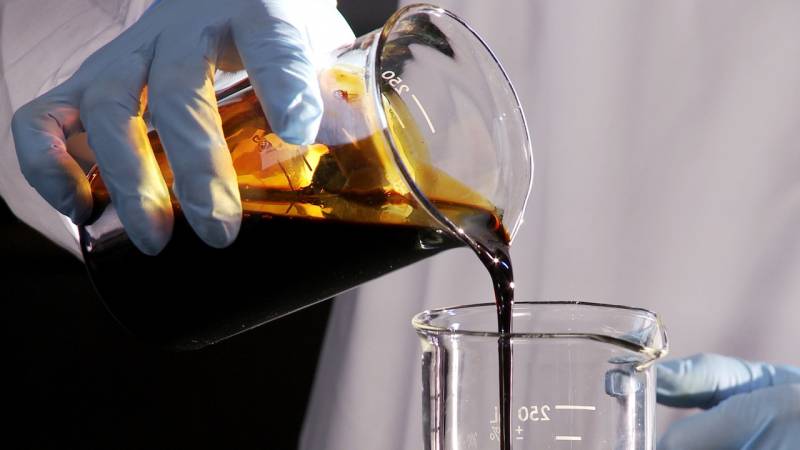 Pyrolysis liquid is something between a diesel fuel and fuel oil.
For example, in such a pyrolysis liquid of the order of 28% of the volume falls on gasoline fractions. Yellow gasoline has an octane rating of 84,3 and contains a large amount of valuable substances: benzene - 4,2%, total aromatic hydrocarbons - 46,8%, including 12% toluene, 4,6% xylene and 17,4% ethylbenzene. Such gasoline is unsuitable for use as a motor fuel, but it is a valuable raw material for further processing.
That is, from a ton of dry shit, it is quite possible to get about 11,7 kg of toluene or 23,1 kg of TNT. Very good result. This is just what concerns the direct extraction of toluene from the pyrolysis fluid.
The result can be improved if benzene is involved in the processing, which is obtained in the pyrolysis process first at the stage of removing water from the substance to be processed (benzene with water forms an azeotropic, that is, inseparable mixture, with 91% benzene content boiling at 69 degrees). Benzene from pyrolysis water is easy to extract by distillation in the most ordinary distillation apparatus, the same as for distillation of alcohol. In the second stage, benzene can be obtained by pyrolysis of gasoline fractions of the pyrolysis liquid. The methanol required for the synthesis of toluene can be obtained in a special installation from the synthesis gas exiting during the pyrolysis.
It seems that by sharing toluene and benzene obtained from the products of the pyrolysis of shit, it is possible to bring the production of TNT to about 45-50 kg per ton of dry shit.
We will not discuss the technology in detail, but for another reason: it is very complex and interesting only for chemists and technologists. As for certain concerns, the technology is so complex that it is not reproducible in artisanal conditions. If there are hundreds, if not thousands of craftsmen who have made nitrocellulose in the kitchen, then I have never heard of a homemade chemist who was able to bungle TNT at home, even from ready-made components.
Million tons of crap for a big war
And how much of this raw material? It is also not easy to believe, but it is formed a lot. The annual volume of livestock waste is estimated at 300 mln. Tons, and the waste of sewage treatment of urban sewage is about 8,6 mln. Tons. This, of course, is a rough estimate, since no one weighs this waste, and the data are mainly an estimate by eye. But even with such imperfect methods of counting the amount of shit, it represents a very big problem for livestock farms. This is not surprising, in light of the fact that one cow gives about 55 kg of manure per day. It is easy to calculate that a livestock farm on 100 heads per day will give 5,5 tons of manure or 2 thousands of tons per year. Where to put all this - there are no definite answers. Usually, liquid manure is exported and stored in accumulators, where it is settled, composted and then turned into fertilizer, more or less suitable for export to fields.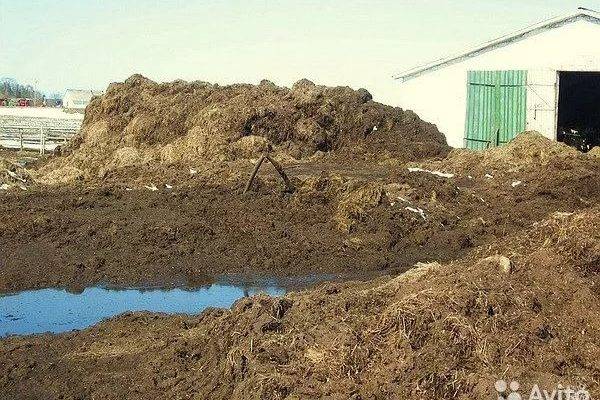 A typical picture for many livestock farms are mountains of manure and slurry lakes.
In principle, a variety of manure disposal methods have been developed, ranging from incineration to various methods of biodegradation, including biogas production. But they are still little used. The reason is that installations for processing hundreds and thousands of tons of manure per year (say, not uncommon are farms for 4000 cattle heads that "produce" about 80 thousand tons of manure for a year) cost a lot of money, and funds for non-core investments for livestock farms, few people have manure handling. Only the largest and most profitable farms can afford long-term investments in manure processing. The rest is still being taken to the drives.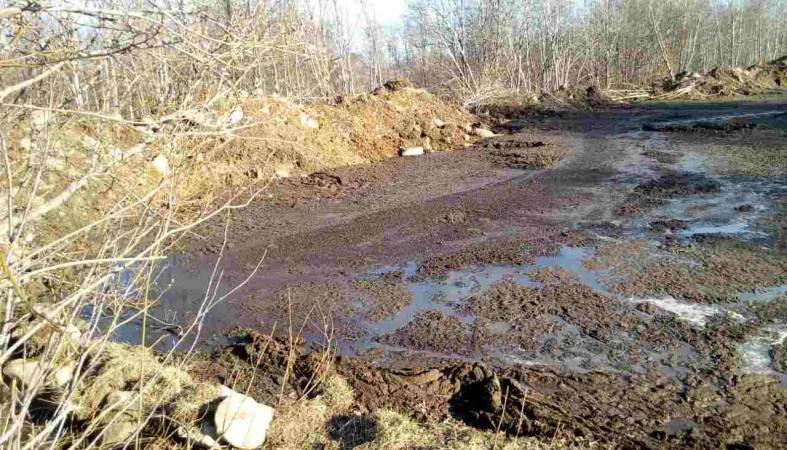 The drive for manure, as a rule, is very simple - a dam from an earthen dam into which liquid manure is drained. Sometimes dams are destroyed and liquid manure flows into rivers and lakes.
In wartime, one cannot pass by such a source of "military-significant materials" (I have been trying for a long time to find the most accurate and sonorous translation of the German term kriegswichtiger Stoff; the presented variant is so far the best), like all sorts of crap. From the point of view of the military economy, it is the source of the products of its pyrolysis, such as: combustible gas used as fuel or for organic synthesis; pyrolysis fluid used as fuel or for other substances, as well as coal suitable for fuel. Some of this range of products is applicable to the production of explosives.
It is easy to calculate that 300 mln. Tons of manure (75 mln. Tons of organic matter, i.e. dry shit) can produce 1,7 mln. Tons of trotyl or about 140 thousand tons per month if it is processed whole. This, of course, is a grandiose volume of a truly total war, but this is unlikely to be achieved from a purely technical point of view. However, if you aim to produce about 20 thousand tons of TNT per month (which is enough for a large enough war), then it is enough to involve about 870 thousand tons of dry shit or 3,4 million tons of manure per year. In any case, the arrival of manure far exceeds all imaginable needs for explosives that can be produced from it. Even with my rampant militaristic fantasy, it is very difficult to imagine what 140 can use thousands of tons of TNT per month.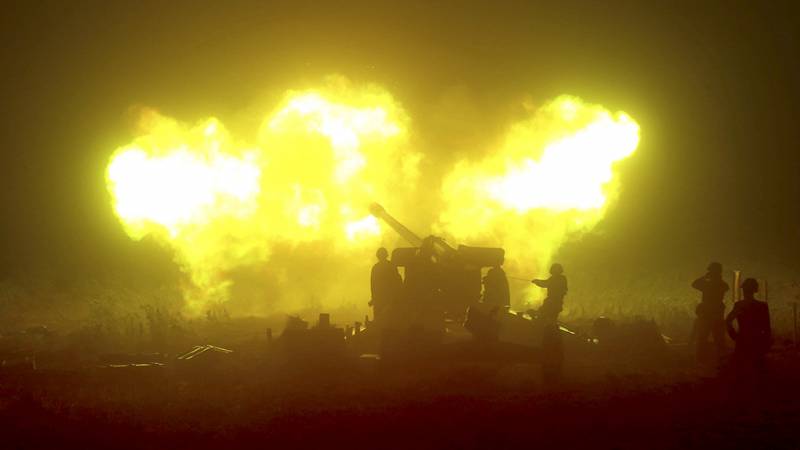 ... for example, at a massive artillery bombardment
The importance of manure for the military economy is also emphasized by the fact that oil can be exhausted from excessive production, or the oil fields can be destroyed and burned. And in any case, cows and pigs will remain, because there is no way to fight without livestock, meat and skin. If only cows and pigs remain, then inevitably there will be manure. Collect it for processing can be forced to low-working population in the order of military service. Primary, pyrolysis processing of manure can be carried out near the livestock complexes in small stationary or mobile pyrolysis plants, and the semi-products obtained, in particular pyrolysis liquid, can be sent to special factories, including for the production of TNT.