In the Indian media, once again a discussion has been taken on how to keep up with the equipment of modern fighters from China's main geopolitical rival. On the portal
Indian Defense News
about this article is discussed the American network publication
"Strategy Page"
under the name "India: F-35 and a pipe dream." The submission says that at the moment India
faced with the need
Consider purchasing F-35 fighter jets from the USA.
From the article:
India is faced with the need to consider buying F-35 if it is going to get stealth fighters corresponding to those that China already produces for itself and which Pakistan plans to contract.
Further, in the American media, referred to by the Indian portal, it is stated that in such a situation, one should "blame Russia", which "cannot keep up with the development of modern combat aircraft and military equipment in general".
From the material:
That is why India was forced to tell Russia that it would not buy Su-57. She lost confidence in the program for the implementation of the project of this aircraft. This project is behind the schedule, while the Chinese already have one stealth fighter in the service. American F-35 receives good reviews (...) At the moment, Indian officials refuse to talk about buying F-35. But this will not change the situation in which India will be, if Su-57 does not become a rival even to Chinese stealth fighters of the new generation.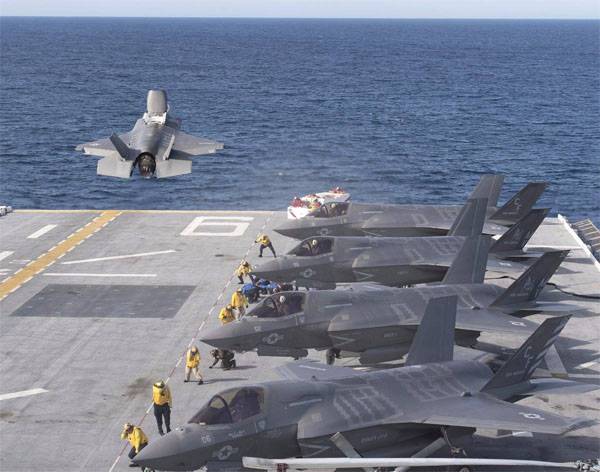 Further, in the material of the American media, it is stated that Indian pilots allegedly expressed disappointment with the Russian development of the Su-57. At the same time, it was stated that the Indian Air Force officers allegedly have a direct "experience with the Su-57."
From the material:
Su-57 is currently lacking the necessary engines, sensors and electronic combat and communications systems promised by the Russians. Worse, the Russians refused to be open with their development partner, and this may have been the main reason for abandoning Su-57.
Thus, the American media are engaged in frank attempts to push F-35 into the Indian market, despite the fact that the US is clearly not going to transfer the relevant technologies to New Delhi, and despite the fact that when you buy F-35, India will have to rebuild all the existing logistics before the logistics of the use of aircraft tankers.