Indonesian Surabaya (East Java Province) has been attacked by terrorists. Explosions thundered at once in two Christian churches of the second largest city of Indonesia. The first bomb was activated by a suicide bomber before the start of his morning service. The second was in the car, which drove up to the parking of another temple.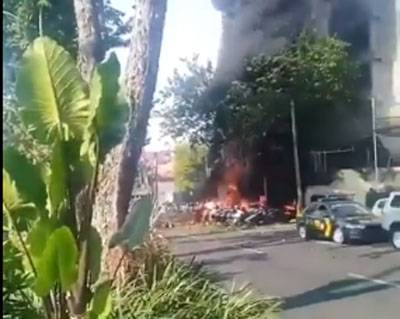 Currently reported six dead and dozens of wounded. At the same time, the East Java Police Department states that the death toll is likely to increase significantly, since many of the wounded were taken to the clinic in an extremely serious condition.
As a result of a car bomb explosion, several other cars, as well as motorcycles parked near a Christian church, burned down.
The head of the East Java Provincial Police, General Mahfoud Arifin, in an interview with local media reported that more than 40 people had arrived at city hospitals for now. The first wounded began to come from the Church of the Blessed Virgin Mary.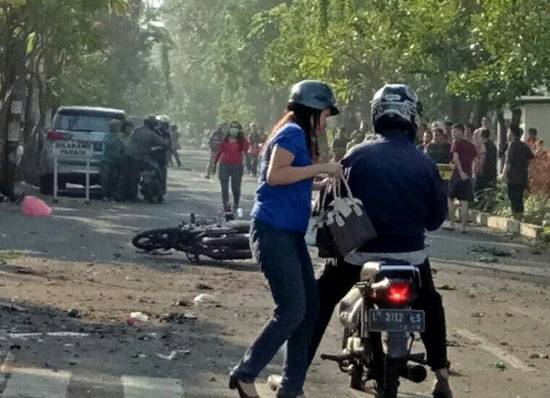 The terrorists also planned to attack the third Christian temple. However, the police managed to prevent the attack. According to some reports, the suicide bomb did not work, and he was eventually neutralized by the police. According to other sources, the bomb was laid at the entrance to the church, but it was promptly discovered by law enforcement officers.
Explosions thundered around 7-7: 30 am local time.
It should be noted that Indonesia is the country with the largest Muslim population in the world. The number of Christians in this state does not exceed 8%. Most of the Indonesian Christians are Protestants.
For reference: the population of Surabaya is about 3,7 million people.
According to recent reports, one of the attacks was committed on the temple of the Pentecostals (Protestant doctrine, which arose in the XX century in the United States).