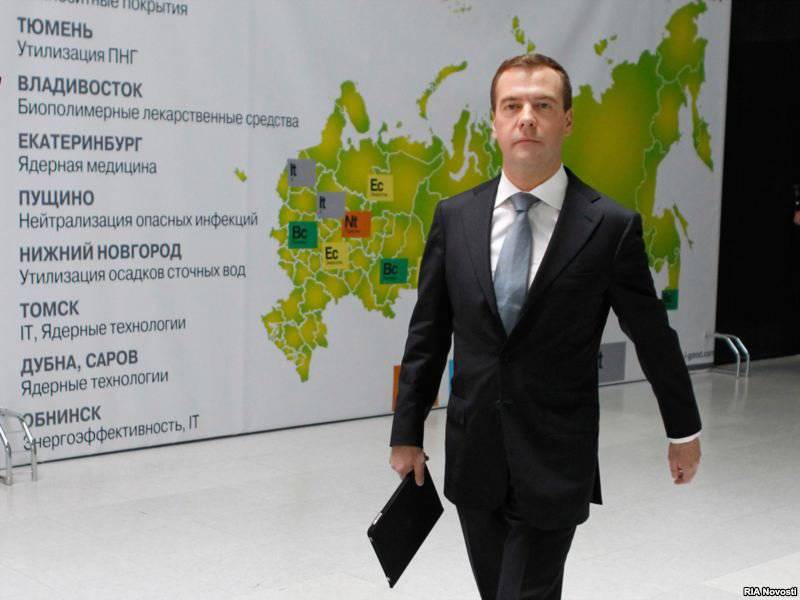 Permanent experts KM.RU summed up the stay of Dmitry Medvedev as president of the Russian Federation
It is unlikely that the definition of "presidential term" ever caused similarly ambiguous associations. Indeed, on the move you cannot figure out what the four years spent in the Kremlin for Dmitriy Medvedev turned out to be more like punishment or evidence of unlimited trust on the part of the predecessor. The most popular version: from 2008 to 2012. Dmitry Anatolyevich conscientiously performed the duty of "locum tenens".
And it doesn't even matter at all who Dmitri Anatolyevich himself saw. It may very well be that he considered himself a full-fledged president, and his predecessor, Vladimir Vladimirovich, - the prime minister and nothing more. True, in the presidential-parliamentary republics, it has been established that the prime ministers are being removed for unsuitable work of the government they govern. Vladimir Putin himself during the first two terms of his reign, the prime ministers changed, as I recall, a little less than the items of the upper wardrobe. But after all, Putin's government under Medvedev was a favorite target of criticism, and certainly no less than the previous ones. But happy is the minister who had the opportunity to work under President Medvedev and Prime Minister Putin: I don't want better stability.
The years of Dmitry Medvedev's presidency evoke more likely comic etudes — amusing performances that are somewhat desperately like Ostap Bender's speeches about New Vasyuki and helping poor children. And at the same time, you understand, with even a slight annoyance: no, Dmitry Anatolyevich is not pulling at Ostap. He is more ingenuous, perhaps, and, it seems, sincerely believes in the stated theses, which are so similar to the decorative furniture of the restored Bolshoi Theater: bronze in appearance, and you touch it with your finger - papier-mâché. Perhaps the Bolshoi Theater itself, which acquired a new life just under Dmitry Medvedev, can in fact be considered a metaphor of his rule? Beautiful facade, external grandeur, big money, gone to a magnificent fairy tale, and ... papier-mâché at the exit.
In a conversation with a KM.RU columnist, the portal's permanent experts presented their assessments of Dmitry Medvedev's activities as president of the Russian Federation.Leading expert of the political conjuncture center, political scientist Pavel Salin:
- Speaking as a whole, it was, in fact, the "third term" of President Vladimir Putin, and all the policies that were carried out earlier, all the pros and cons of the two previous real Putin terms — all this automatically continued on Medvedev's conditional-presidential term. On the one hand, the Kremlin pursued a socially responsible policy, which was especially important during the crisis. Incomes of Russian citizens did not fall as much as in most Western countries. But the flow of "Putin's stability" to stagnation continued. That is, the sign from the plus inevitably changed to a minus: all the shortcomings of the previous Putin's rule, which at the beginning of the 2000s had not yet been felt so strongly, were gaining momentum — corruption, decay of the everyday state, decomposition of police work, education
Thus, I would not greatly distinguish the presidency of Medvedev from the previous presidency of Putin. Now there may be some illusion that during the time of Medvedev's rule something has changed a lot. In fact, this is not so: the attitude of society towards the pros and cons has changed. If the former began to be taken for granted, then the most public attention began to concentrate on the negatives, which ultimately led to an increase in protest activity.
- Do you think Medvedev did not want to finally get out of the shadow of Putin?
- He wanted this himself. Of course, his own environment was also pushing him to the same, but Putin is still quite an experienced politician: he picked up a rather weak candidate a priori, who was clearly calculated from a psychological point of view and realized that this person was not capable of independent play. Dmitry Anatolyevich, of course, tried to play an independent game, but he was quickly lowered from heaven to earth. Initially, apparently, it was supposed to leave Dmitry Medvedev for a second presidential term, but when the time came to decide the fundamental question of who will be nominated for president in 2012, Putin's entourage began to tough Medvedev. This lasted roughly from August to the very historic day of September 24. Thus, Putin chose the ideal candidate in 2008 for maintaining his own power.
Director of the Ukrainian branch of the Institute of CIS countries Vladimir Kornilov:
- Honestly, I was originally a critic of the very idea of ​​a tandem, saying that Russia rarely endured two kings. And thank God that now everything ends this way (if it ends, of course). In my opinion, the idea of ​​the tandem concealed significant risks for the Russian statehood, and the last years of Medvedev's government once again confirmed this. I will not say that Medvedev made some breakthroughs. All that he will remember for the Russians as president is the renaming of the police into the police and games with time. In principle, if we recall any other actions, "reforms", then mostly Medvedev will be remembered by the inhabitants of Russia by just this. Therefore, it is not worth judging how successful he was president.
- The fact that Dmitry Medvedev did not become completely independent under Putin is rather a plus or a minus for the country?
"Considering exactly which decisions Medvedev took clearly on his own — reform of the Ministry of Internal Affairs or initiatives to cancel the transition to winter time — this is more likely a blessing ..."
Director of the Institute for Problems of Globalization, Doctor of Economic Sciences Mikhail Delyagin:
- For Dmitry Medvedev, it was four years of joke and banter, when a person enjoyed life, listened to Deep Purple, amused himself with tweeters and iPods ... The boy came to toys. The little boys play cubes, and he played the country. It was a happy time for him, he felt like a great man. He really made decisions once - during the war in South Ossetia, and we must pay tribute, these decisions were absolutely correct. If Medvedev had behaved in the same way as he had behaved for two or three days during the war with Georgia for four years, there would have been no price for him. But, unfortunately, it was only during those days that he remembered that he had a certain responsibility towards people.
And for the country it was a time of unfulfilled hopes. In our country live gullible people. There are people who will show your finger - they begin to cry, laugh, scream. And you will show someone a finger - he immediately begins to believe in a bright future. People once again believed, and they were cruelly deceived once again. And Medvedev it goes around comes around. Russian people can be beaten, but you can not deceive. We remember this. We can forgive anything but cynical deception. That is why Stalin is a hero for us, and Chubais is a bastard. And Medvedev was in the same company with Chubais.