The presidents of Azerbaijan and Turkey 12 June will participate in the opening of the TANAP gas pipeline. This is the Trans-Anatolian gas pipeline costing about 10 billion dollars, which, together with other threads, should eventually be used to transport "blue fuel" to Europe via the following route: Baku (Azerbaijan) - Rustavi (Georgia) - Biga (Chanakkale, Turkey) - Kastoria (Greece ) - Fier (Albania) - Brindisi (Italy). The gas pipeline goes around the territory of Armenia and does not use the territory of the Russian Federation.
In total, the new gas supply route to Europe consists of several sections, where TANAP is the Turkish part of it (medium). The initial part of the pipe is South Caucasus, the final part is Trans Adriatic. In Turkey, TANAP receives two branches, one of which is planned to go to Bulgaria, and then to Romania and Hungary (while it is not built outside of Turkey).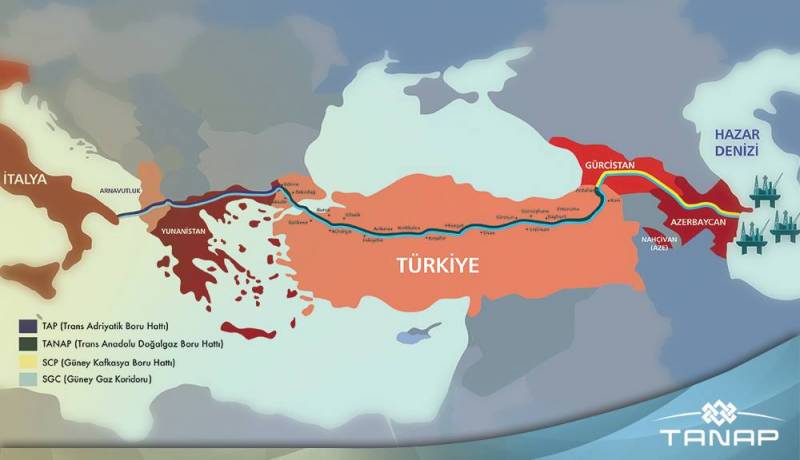 Thus, Turkey is turning into the largest gas transportation hub for southern Europe and is given the opportunity to directly participate in price formation. After putting into operation also the "Turkish Stream" this participation will grow even more.
The Turkish Minister of Energy says that the official opening of TANAP will take place on June 12, and the first gas on the pipe will go on June 19.
Initially, the pipeline capacity will be 16 billion cubic meters per year, of which the Turks will leave 6 billion in their country. Entry into the Italian market is planned for 2020 after the completion of the construction of the Trans-Anatolian gas pipeline.