The West, at the suggestion of Kiev, constantly insists on the withdrawal of Russian troops from the Donbass. And no one thinks what will happen if they really appear there. Fear your desires!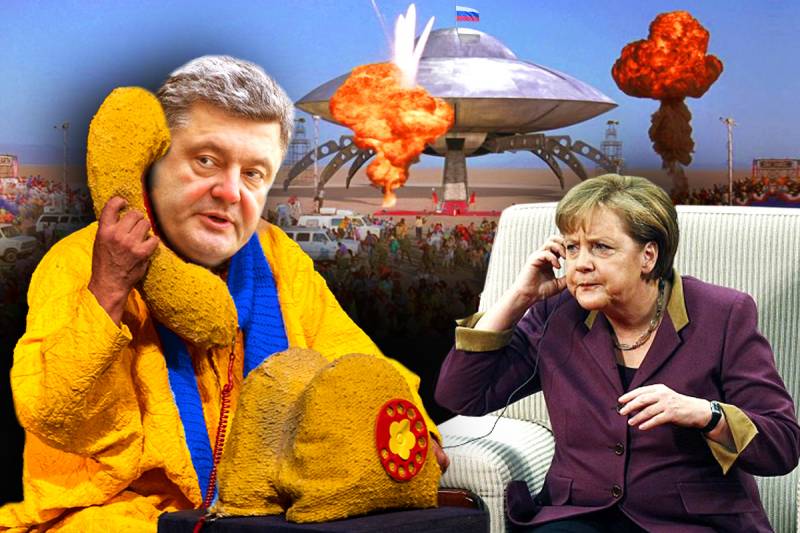 Poroshenko's speech in Brussels
Poroshenko stood on the podium and shook the EU flag.
- Russia must withdraw its troops from the Donbass! As soon as 5.000 Putin's thugs leave the long-suffering land of Ukraine, peace and God's grace will descend on her! Factories and factories will earn, filling the state treasury, pensions and salaries will rise, corruption and crime will disappear. The volunteer battalion fighters returning from the ATO will stand up for the machines, sit down at the arms of combines. The whole world will be amazed at the economic rise and greatness of Ukraine!
The only obstacle to the Ukrainian economic miracle are countless Putin hordes in the Donbas. On behalf of the long-suffering people of Ukraine, I appeal to the world community: if you want to get back the loans that were given out to us, you can go and ask Moscow to withdraw its troops from Donbass. Otherwise, you shish what you get from us!
Telephone conversation Merkel with Putin
- Guten Morgen, Valdemar!
"And you ... guten morgue," Putin growled.
- I appeal to you on behalf of the entire world community. The entire progressive public is concerned about another surge of violence from the arriving migrants. They crossed all imaginable and unimaginable boundaries! They do not want to work, they pester our women, they crap in the hallways and elevators. With this, it's time to stop!
- I understand and sympathize.
- Then immediately withdraw your troops from the territory of Donbass! You hear immediately! 5.000 soldiers, 1.000
tanks
, 2.000 guns and 500 aircraft should return back to Russia. And remember, your tricks "us-there-no" will no longer pass! We will organize an international commission that will oversee the withdrawal process. We will count every soldier, every tank, every plane! And we will not calm down until we see with our own eyes how the last field kitchen will cross the Russian-Ukrainian border. Everything!
The tube squealed with short beeps.
Putin and Shoigu
Putin hung up and looked guiltily at Shoigu.
- Sergey Kuzhugetovich, I ask you to organize the withdrawal of Russian troops from the Donbass. 5 thousand fighters, 1 thousand tanks, well, in short, everything on the list, you heard. Our troops from Donbass should be withdrawn, and our western partners should see this.
- Vladimir Vladimirovich! But where will I get our troops in the Donbass? Infantry, artillery,
Aviation
? Yes, even in such quantities? County rip off?
- I do not know! Are you the minister of defense or me? Spin as you wish, but in a week in Donbas there were also people and equipment in necessary quantities that we could withdraw and show the conclusion to the whole world. Follow.
In LDNR
- Hello, Prokopenko? Tomorrow the landing battalion, the tank company and the artillery battery will arrive to you. Receive and place.
- We are preparing for the offensive?
- I'll give those offensive! This is the Russians. Exactly a week, maybe even less. Do under your care. In battles do not use. All clear?
"I see," the officer said, annoyed.
- And further. Starting tomorrow, stormtroopers will fly over the line of demarcation. You warn your people that they will not start shooting at the fool with them - these are ours.
- I'll warn you.
Prokopenko put the phone on the lever and was silent for a few seconds, thinking. But in his eyes a sly hohlyatsky light caught fire.
Adventurer Prokopenko
- What have you done, Prokopenko ?! - thundered in the phone. - You were given the command "to accept and place." What the hell did you send them to the front line ?!
- And I have no rear, I have everywhere advanced! - snapped Prokopenko.
- Yes, at least you understand what can happen? - yelled the tube.
- And what can happen? - pretended not to understand anything Prokopenko.
- So: immediately ...
- BUT? What? Repeat! Can not hear anything! - and Prokopenko began to blow hard into the phone.
* * *
- Prokopenko! What have you got there for firing ?!
- Natsik fired several projectiles, as usual, and the Russians, the devil knows why, they fired back. Well hide, devils, shells do not regret.
- What the hell "return fire"? We have a truce!
- Did anyone explain to Russians what "ukrope truce" is? - Prokopenko swore. - They apparently decided that ukry had gone to the offensive and, as expected, opened barrage fire ...
- Immediately cease fire! You hear immediately!
- BUT? What? Repeat! Can not hear anything! - Prokopenko shouted into the phone and looked at his chief of communication with this displeasure, - what is your connection? Constantly disappears.
- Aha, - the chief of communications quipped, - as you have uncomfortable conversations with the authorities, so always with the connection do the problems begin ...
* * *
- Krymov? This is Prokop. Push your boxes to the line of demarcation. I know the order, but I don't ask you to cross the line, just come as close to it as possible, frets? Oh, thanks.
- Hello, Maltsev? Hello winged guard! This is Prokop. Do your eagles have a desire to fly today? Already flew? So let them still fly, do you feel sorry for kerosene? Yes, yes, very, very please. Oh, thanks!
* * *
Somewhere above, it crashed and the earth fell from the dugout ceiling. The captain of the APU reflexively ducked.
- Pan captain, pan captain! - A fighter who ran into the dugout had every eye the size of a bread loaf. - The enemy opened a hurricane artillery fire! We are losing! Tanks are coming! And airplanes !!!
"And what a bastard this morning decided to play a war game, tease Muscovites? - with an annoyance thought pan captain, - whose hands itched? I find and personally combing it up. "
Upstairs, it rumbled again, and Mr. Captain mentally added: "If only I stay alive."
Telephone conversation Poroshenko with Merkel
- Mrs. Merkel! Mrs. Merkel! Russian troops appeared in the Donbas!
- Herr Peter, I do not understand why are you so excited? You constantly said that they were there?
- Yes, I SPOKE. But now they appeared there!
- Pete, I do not quite understand your English, maybe we will switch to Russian?
- Hi!
- Then I just do not understand what you boil. We are already recruiting an international commission that will oversee the withdrawal of Russian troops from the Donbass. In a week she will start her work.
- A week ?! Yes, in a week the Russians will reach Kiev!
- Your heroes for four years restrain the onslaught of Russian troops. Really they will not sustain some days? Or ... have you been deceiving us all the time? Oh, how nasty!
- Frau, Frau Merkel! - Poroshenko mentally fell to his knees. - I did not deceive, of course our heroes will endure, but is it not possible ... as soon as possible?
Taking away the silenced tube from his ear, he stared at her uncomprehendingly for a few seconds, and "gave up":
- Here's a bitch!
Fateful decision
After walking around the office, Poroshenko quickly walked over to the table and pressed a button. Entered the secretary.
- Give my order to all the troops: hold on, hold on, hold on. Fight to the last drop of blood, to the last bullet, to the last soldier. Freedom or death! And ... prepare my private jet for departure. My family and I urgently need to go to London.