In Ukraine, they decided to ask about the fact that fundamentally changed after Poroshenko renamed the so-called "anti-terrorist operation" (ATO) into "operation of the combined forces" (EP). Nobody expected any fundamental changes, there are none.
Renaming the operation has become a mere formality for the Ukrainian authorities for the simple reason that it is embarrassing to call this operation "anti-terrorist". After all, this was the first "anti-terrorist" operation in
stories
when the opposing side was not officially recognized by terrorists. Although the Ukrainian media practiced rhetoric about who, in a more perverted form, would declare the people's republics of Donbass to be terrorist, they didn't share the power of this zeal, leaving everything to no more than words.
The General Headquarters of the Armed Forces of Ukraine, with reference to the environmental protection headquarters, openly reports that it is conducting local military operations in the Donetsk direction along the Zaytsevo-Novozvanovka-Peski lines. Also, the activity of the Armed Forces of Ukraine can be traced in the Shirokino area, from where attacks on the territory of the DPR on the Azov direction are coming from.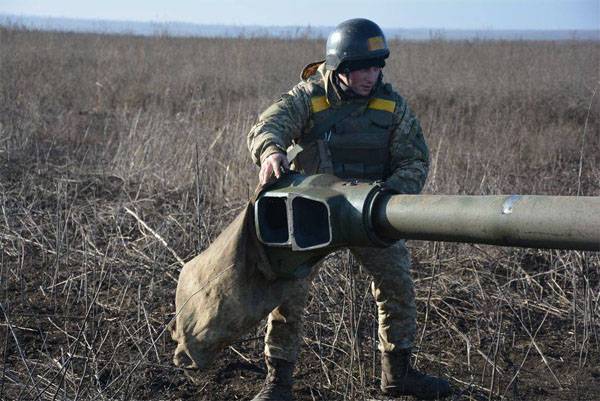 Further typical rhetoric for representatives of the command of the APU:
The Russian-terrorist occupation troops (what a lengthy term without official recognition of the LDNR as "terrorists" - note "VO"), defiantly violating the Minsk agreements, opened fire with 152 mm artillery on the armaments area, which is located at a considerable distance from the line of contact.
Further noteworthy:
The most active hostilities continued in the Avdeevskaya industrial zone. According to intelligence data, the enemy carried out the assault actions of our positions. The enemy suffered significant losses.
And further:
The loss among our units no.
The logic of "reinforced concrete." The enemy, according to the OOS headquarters, delivered blow after blow using large-caliber artillery, then decided to storm positions that were subjected to fire - and as a result the "fired" not only did not suffer losses, but also, "fully observing the Minsk agreements" , forced the DNI troops incur losses. Here it is - the operation of the combined forces: to sit in a trench under the "endless shelling of the enemy", to press against the trench wall during the "attack of the assault detachment", and after that, "without making a single shot", to talk about complete peremog, no loss and enormous damage from the enemy.
Dmitry Tymchuk, a well-known "speaking helmet" adds bright colors to the environmental protection, stating that efficiency has increased (attention!) "Theoretically", and the enemy "in a panic because of
news
that the United States supplied Ukraine with the Javelins.