An-74 aircraft with rescuers and equipment on board flew today from Khabarovsk to Yakutia, where more than 170 houses are flooded with flooding, reports
RIA News
message MES.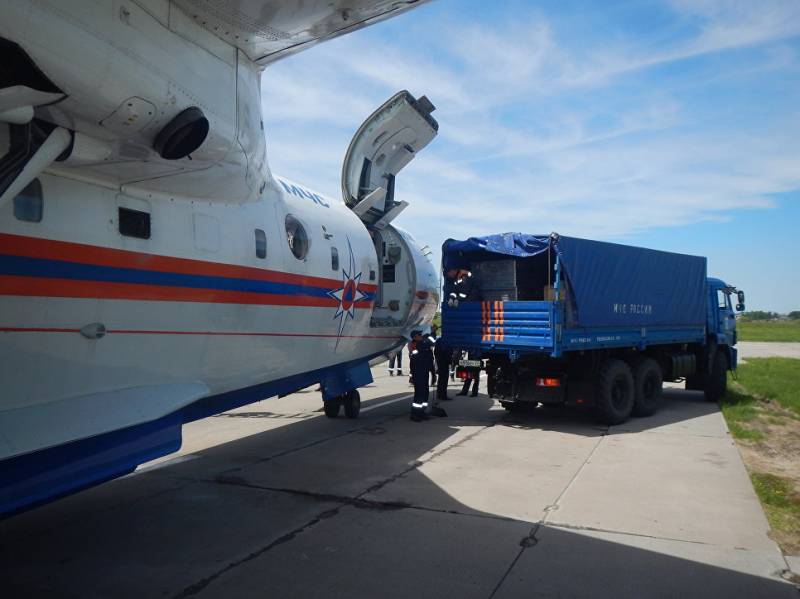 Earlier, the ministry reported that the emergency mode was introduced in the Amginsky district of the region because of the flood - "256 yard areas were flooded in four villages, 171 residential house, 734 people were resettled in advance, including about 300 children".
In 15.00 (8.00 MSK) on May 11, an An-74 aircraft from the Khabarovsk Aviation Rescue Center of the Russian Emergencies Ministry flew from Khabarovsk to Yakutsk. On board the aircraft - 20 rescuers of the Far Eastern Regional Search and Rescue Team (FERPSO) EMERCOM of Russia, the operational group GUMChS of Russia in the Khabarovsk Territory, psychologists of the Far Eastern Branch of the Center for Emergency Psychological Aid EMERCOM of Russia
says release.
The ministry clarified that "rescuers will be sent to the areas of Yakutia, where the most difficult situation arises in connection with the passage of ice drift."
Rescuers are equipped with boats, light towers, wetsuits, communications equipment, other equipment necessary to assist the population, to provide water crossings and evacuation of the population,
the press service quotes the words of the deputy head of the FERPSO, Vladimir Kadykov.
It is noted that 5 rescuers from the Far Eastern detachment are already working in YN of Yakutia since 30. They provide security and provide targeted assistance to residents of the villages of Abaga and Mändigi.