The Ministry of Defense invites to a new airshow in the suburbs
On Saturday, four Russian air groups will perform in Kubinka. Air Celebration Dedicated to the 80th Anniversary of the Show Center
aviation
technology (TsPAT named after I.N. Kozhedub), reports
TASS
message of the Ministry of Defense of the Russian Federation.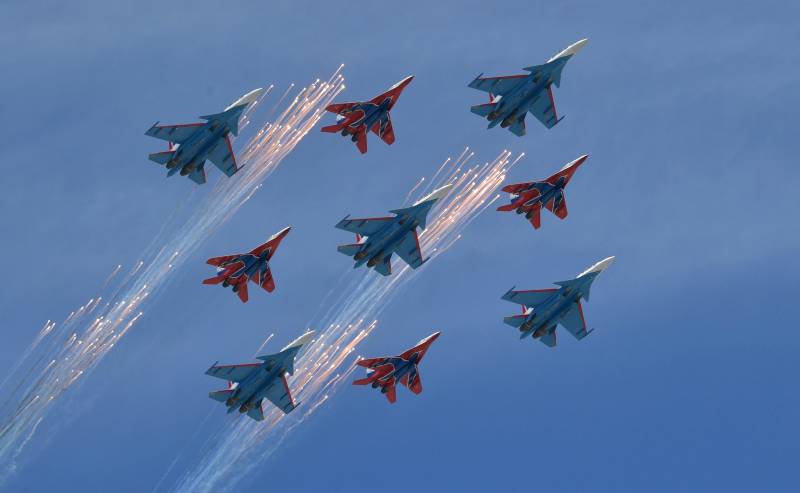 During the festivities, a unique airshow will be held for more than two hours with the participation of crews of four aerospace aerobatic teams of the Aerospace Forces: Russian Knights on Su-30SM fighter jets, Strizhes on MiG-29 fighter jets, Sokolov Russia on Su-30CM and "Golden Eagles" fighters on Mi-28Н attack helicopters,
told the department.
In 10: 00 at the airfield in Kubinka will open day, the entrance to the territory is free.
According to the report, "in addition to group piloting, the Falcons of Russia will show a close maneuvering air battle of two pairs of fighters, as well as a single pilotage will be performed on the Su-25 attack aircraft of the Lipetsk aviation center and the attack helicopter Ka-52 of the Torzhok aviation center."
Viewers will be able to see the group "Nesterov's Loop", the synchronous "Barrels", the doubles "Bell", "Mirror", "Ear", "Gorka", and the fountains and "Tulip" dissolutions. The air part of the Su-30CM and MiG-29 planes, built in the famous "Cuban diamond", will complete the air
added to the press service.
In addition, a static exposition of aerospace equipment VKS (Su-30CM, Su-27, Su-25, MiG-29, An-30), flight uniforms, means of search and rescue units of aviation units will be presented.
During the festival for the audience will perform music groups.
http://www.globallookpress.com