The standoff between pro-Assad forces and the Israeli army has escalated. Militants again fired on Damascus. Turkey continues to build observation posts in the de-escalation zone in the north of the SAR. Reports about it
FAN
with reference to Syrian sources.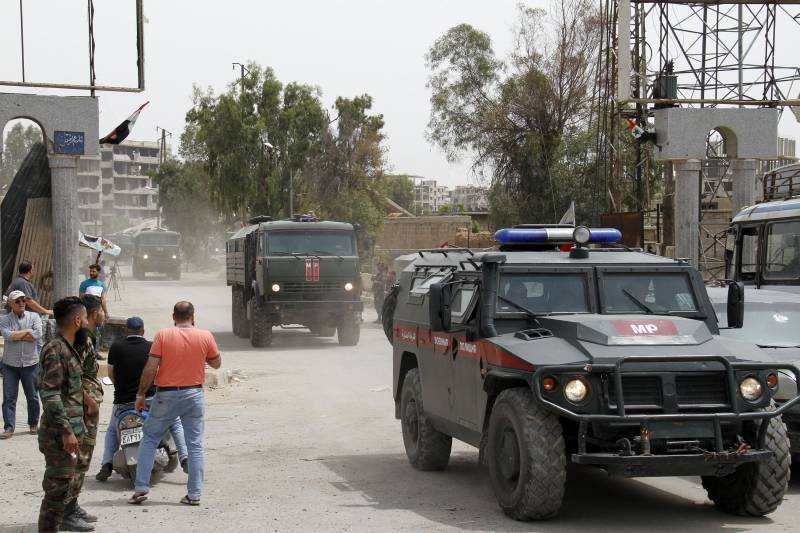 After Israeli shelling of the territories of Damascus and the neighboring province of Quneitrasoyuzniki army of Bashar al-Assad attacked the firing positions of Israeli units. Later, the Israel Defense Forces (IDF) attacked the fortified pro-government militias again. There were reports that as a result of the explosions of Israeli missiles in the area of ​​the military bases of the CAA, about Shiite militia killed about 20. In the afternoon, it was reported that the capital again came under fire from the radicals of the Islamic State (IG, the group is banned in the Russian Federation). Al-Kazaz and Az-Zahir areas were hit, and civilians were injured as a result. After this, fighting resumed in the Al Yarmouk area. A group of militants attempted to leave the enclave under the guise of CAA soldiers, but the Islamists were discovered.
In the past day, a new group of Turkish recruits completed their training. Around 600 soldiers headed northwest ATS to begin work on the restoration of Afrin. In particular, the Turkish fighters will continue to neutralize the mines and IEDs installed by the terrorists of the Kurdistan Workers' Party (PKK).
On the left bank of the Euphrates River in the territories occupied by the Syrian Democratic Forces (SDF), armed clashes between Kurdish detachments and IS fighters continued throughout the day. It became known that during the new phase of the counter-terrorism military campaign "Jazira Storm", 1200 artillery shells were fired at areas occupied by Ishilovites. In addition, at least 40 sorties in Deir ez-Zore carried out
aviation
Western coalition. Collisions were noted near the settlements of Al-Hajin, Al-Bukhatyr, Al-Bagur.
In the north of Hama, intense skirmishes between armed opposition forces and parts of the Syrian Arab Army (CAA) were observed throughout the day. Under the artillery strikes of government units, the firing positions of Dzhebhat an-Nusra (banned in the Russian Federation) in the vicinity of Kafr Zeta and Al-Latamin settlements were. The Syrian air force also conducted several sorties in the northern part of the region. Meanwhile, a military convoy of Turkey arrived in the area of ​​Kalaat al-Madik and Kafr Nabud, located near the border with the neighboring province of Idlib. Turkish troops will soon establish footholds in the border area to monitor the cease-fire in the de-escalation zone.