Discussions are ongoing around the nomination of candidates for the Nobel Peace Prize. The day before, the US president said that he would not mind if his candidacy was on the list of main applicants for the Nobel Prize. Separate public and socio-political structures in Russia decided that the Russian president should not be left behind either.
In particular, the Association of Heroes of Russia and the Soviet Union, headed by Deputy Vladimir Shamanov, decided to start collecting signatures for the nomination of Vladimir Putin for the Nobel Peace Prize. The reason for the nomination was the participation of the President of Russia in the action "Immortal Regiment", which in our country alone this year brought together more than 10,5 million participants, and more than 2 million around the world: from the USA to Australia.
During the opening of the exhibition "Establishing the destinies of missing defenders of the Fatherland" within the walls of the State Duma, General Shamanov, who heads the Duma defense committee, said (quote
TASS
):
The Russian public organization, uniting the Heroes of the Soviet Union, the Russian Federation, full holders of the Orders of Glory, initiates, together with the leadership of the Immortal Regiment, to organize a collection of signatures from leading social and political organizations to nominate Vladimir Vladimirovich Putin for the Nobel Peace Prize. Of course, the embodiment of the becoming international movement "Immortal Regiment" is our national leader Vladimir Putin.
A separate question: is it worth it to participate in a farce called the Nobel Peace Prize? After all, to get it in our country means to stand on a par with Mikhail Gorbachev, whose "creative activity" is well known, as is known, and for what the West actually favored this man.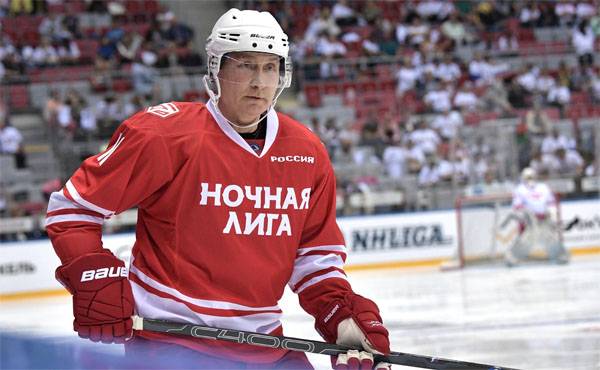 On the eve of the channel "Russia 1" almost 10 minutes of airtime at the beginning
news
the Vesti program (at 20:00) paid attention to how the Russian president scored goals in the Night Hockey League match. Apparently, this was the most important news topic at that time.