Japanese teachers for the first time refused to visit the Kuril Islands. About the reasons for the "demarche"
The first visa-free trip of Japanese nationals to the territory of the Russian Federation took place this year. A group of Japanese under the visa-free exchange program went to the South Kuriles. It is reported by the news agency
Kyodo
.
Announced that the main point of the tourist route will be Japanese burial on the islands of the Kuril ridge. The Japanese noted that they intend to visit the graves of their ancestors on the island of Kunashir.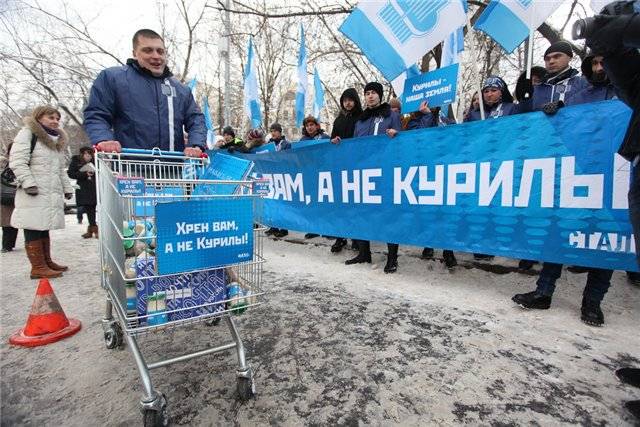 Who in Japan has the right to a visa-free visit to Russia (or rather, a specific territory, which is the South Kuril Islands)? First of all, these are former residents of this territory, as well as members of the families of those who previously lived in the Kuriles (when the islands were part of Japan).
Visa-free tourist trip to the Kuril Islands for the first Japanese group will last until May 14. To visit the Kuril Islands, the ship "Etopirika" is used.
The visa-free visit by Russians of the Japanese territory this year has not yet been said. It is known that the right to visa-free entry to the Country of the Rising Sun was previously obtained by residents of the Sakhalin Region. For them is open the island of Hokkaido.
Such trips in the form of visa-free exchange are carried out since the collapse of the Soviet Union. During this time, under the current program, Japan was visited by 8 thousand Russians, and Russia - 18 thousand Japanese.
Recall that Japan continues to consider the Southern Kuriles as its territory, and to sign a peace treaty with Russia on favorable terms (primarily territorial) is ready to invest in some large business projects in the Russian Federation. One such project is the construction of a subway in Voronezh. Public opinion polls in the Russian Federation show that the overwhelming majority of Russians are skeptical of this kind of cooperation, believing that no investment can serve as a justification for the process of even a hypothetical refusal of the Kurils.
Against this background, the IA
TASS
reports that for the first time in recent years (from 1998), Russian language teachers from Japanese schools will not arrive in the Kuril Islands. The situation is explained as follows:
During a trip last year, teaching materials and other brought cargo were confiscated from teachers who arrived in Kunashir, and they were never returned. As a result, the implementation of the same trip this year turned out to be problematic.
Last year, Japanese teachers tried to introduce 1,5 tons of undeclared cargo into Russia, including teaching aids, which reflect the Japanese interpretation of the territorial identity of the Kuril Islands.