Who belonged to the destroyed Israeli Air Force ZRPK "Shell-C1" in Syria?
The press service of the Israel Defense Forces publishes shots that captured a blow to the Pantsir-С1 anti-aircraft missile system. It is noteworthy that the Israeli military command describes this attack as a "large-scale action against Iranian military facilities on Syrian territory." A report by the Israeli army stated that about 70 missiles were fired at targets in Syria. In the Russian Defense Ministry on the eve said that the Syrian air defense weapons intercepted about half of them.
In Israel, it was reported that during the air strikes "Air Force aircraft collided with fire, open air defense systems."
From the report:
In response, attacks on air defense were launched.
Pantsir-С1 - ZRPK Russian production. In addition to Russia, it is in service with the armies of the following countries: Algeria, Brazil, the United Arab Emirates, Iraq, Oman, and others. The Syrian army has at least 44 of such anti-aircraft missile-gun complexes.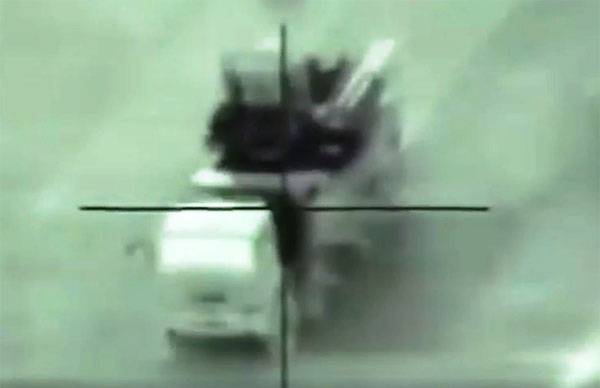 In Israeli specialized blogs, they note that the destroyed "Pantsir" ZRPK belonged to the Syrian government army. There is currently no official confirmation of this information.
The Israeli military command has published a list of objects that in Syria have become targets for launching missile attacks. Among them: Shayrat airbase, Tala airbase (southwest ATS), Mezze airbase (near Damascus), objects near Al Quseir and Quneitra. It is stated that "the military base of the pro-Iranian armed formations" was destroyed in Al-Qusayra.
Demonstrated the destruction of the MLRS "Uragan", which belonged to the pro-Iranian forces in the SAR:
The chairman of the press service of the IDF, General Ronen Manelis, stated that the Russian side had previously been informed about the launching of missile strikes. According to Manelis, the Iranian infrastructure in Syria has suffered significant damage.