At the international exhibition of weapons for special operations (SOFEX), held in Jordan, American manufacturers Arnold Defense demonstrated a new rocket system, which can be mounted, including on off-road vehicles. This is an 2,75-inch (69,9 mm) Fletcher rocket launcher with a laser-guided system.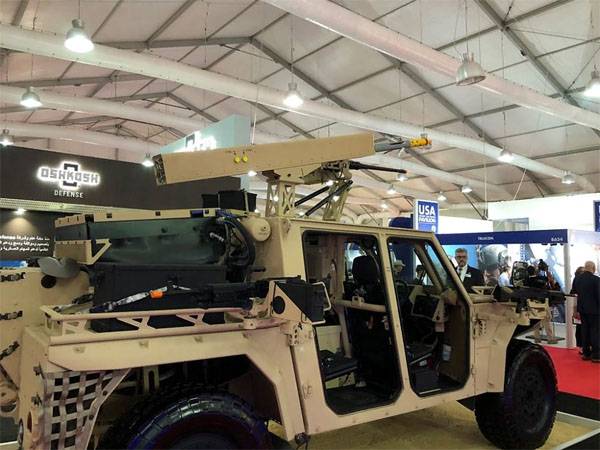 Presented a new rocket launcher on the universal version of the car company Oshkosh (S-ATV). The system has a launch system from the company BAE Systems (Britain).
Representatives of the cooperation of manufacturers note that the technologies implemented in the rocket launcher will reduce the consumption of ammunition for effective destruction of the target. The laser guidance system is said to guarantee an accurate hit on various objects that will be determined as targets. And this is armored vehicles, enemy fortifications, low-flying means
aviation
- primarily helicopters.
From the statement of the manufacturer:
A truck (pickup) can transport cargo under a tarp. If necessary, the tarpaulin is simply removed, the rocket launcher is brought into a combat position - and now you already have an effective rocket system.
One of the problems that the American and British experts solved was the problem of high accuracy hitting the target while continuing to move the vehicle. Also, the missile launches themselves should not affect the movement of an SUV or truck. The presented system, according to the manufacturer, is deprived of all previously manifested problems in this regard.
It is stated that in order to overcome some of the problems, tests were conducted in the highlands of Afghanistan.
It is noted that the systems are effective in the absence of air support.
Will there be such systems among militants in the Middle East who have long been using off-road vehicles equipped with various means of destruction, including large-caliber machine guns?