The Kiev prosecutor's office reports that the investigation into the murder of the former State Duma deputy Denis Voronenkov has been completed. Recall that Voronenkov was killed at the Premier Palace Hotel 23 in March 2017. It is stated that the indictment is planned to be sent to the court in the near future.
UNIAN
quotes the statement of the press secretary of the Kiev city prosecutor's office:
Currently, the parties to the criminal proceedings are informed of the completion of the pre-trial investigation and the investigation materials are open. After the parties are acquainted with the specified materials, as well as materials that may be in the possession of the defense, the indictment will be sent to the court.
Announced that installed "all involved in the murder," Denis Voronenkov. In particular, in the Kiev Prosecutor's Office they continue to assert that Pavel Parshov, who shot at the former deputy of the State Duma of the Russian Federation, went to commit a crime by "order from the criminal authority Vladimir Tyurin". It was announced that the motive was allegedly that Maria Maksakova left Tyurin for Voronenkov. Moreover, the Ukrainian investigation believes that Tyurin went "to Voronenkov's order with the filing of Russian special services."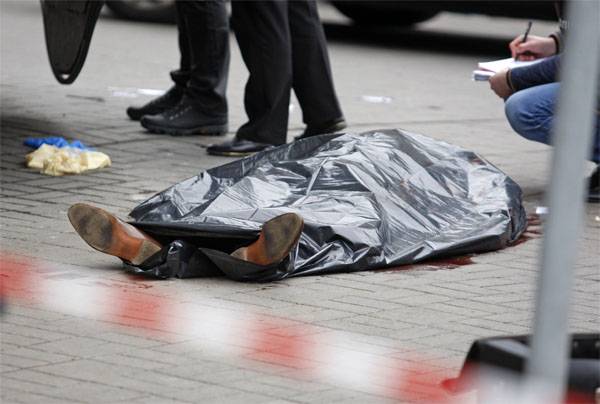 From the statement of the press service of the Kiev prosecutor's office:
The murder was prepared under the control of the top of the FSB.
If you follow the Ukrainian criminal law reports, then the FSB, according to the current Ukrainian law enforcement officers, is "guilty of all high-profile crimes" occurring in Ukraine. So Kiev is clearly easier. Proof of? As always, they are "there", but very "secret", because the public is provided nothing but groundless accusations.
At the same time, Tyurin himself gave media interviews several times, noting that the Ukrainian accusations leveled against him do not have any serious grounds. Tyurin himself notes that for a long time he has no business with whom his former "civilian" spouse lived and lives.
The final conclusion of the Ukrainian investigation stated that 4 people also appear in the case - all citizens of Ukraine. Their last names are: Tarasenko, Elk, Levenets and Vasilenko. The last two are wanted.