A mass grave of victims of terrorists was discovered in Idlib. When militants fired on residential areas of Damascus, at least five civilians were killed. Reports about it
FAN
with reference to Syrian sources.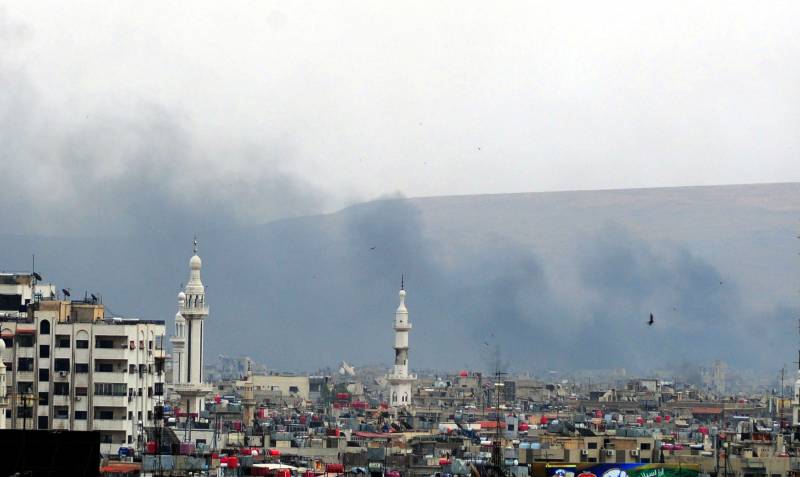 Over the past day, armed clashes continued between the Syrian Arab Army (SAA) and the radicals of anti-government forces in Damascus. The militants fired at the central areas of the capital - Marge Square and Al-Maisat, as well as the building of the shopping center. As a result, at least five civilians were killed and about 20 were injured. In response, government units opened fire on radical deployment zones in the Hajar Al-Aswad region and near Al-Yarmouk camp. There was information about the consequences of Israeli attacks in the south-west of the region near Al-Kiswa. According to agency
News
SANA News, rocket explosions, led to the deaths of eight pro-Assad fighters and seven civilians. However, several missiles were shot down by Syrian air defense systems.
By evening, it became known about the completion of the evacuation of the Islamists in an agreement with the Government of Syria. All the militants with their families left the settlements of Babila, Yalda and Beit Sahm and left for Idlib and Aleppo.
Another Turkish military convoy arrived at the western outskirts of Aleppo. According to a military source, a new stronghold will be established in the Ar-Rashidin area near the border with Idlib to monitor compliance with the terms of the Astana Peace Agreement.
Throughout the day, government troops were preparing for the start of a new military operation in the west of Idlib. Additional CAA units are being transferred to the city of Jisr Ash-Shugur. At the same time, Russian VKS worked in the jihadist deployment zones. Air attacks
aviation
forced radicals of the IG (the group is prohibited in the Russian Federation) to leave a number of positions. Meanwhile, a new common grave was found for the victims of the militants. Military personnel of the SAR forces discovered more than 50 bodies of civilians, including women and children buried in the village of Al-Khoshchin Al-Kibr in territories previously cleared of militants.