The President of the Republic of Belarus took part in celebrations in Minsk on the occasion of Victory Day. In his speech, Alexander Lukashenko noted that the Belarusian land was washed with the tears of children, women and old people, burned with fire, soaked with the pain of soldiers and civilians.
BelTA
quotes Lukashenko:
We - living on it today - should remember about the heroic feat of the people. After all, the war did not just break fates and steal dreams - it crippled souls and left a deep mark on the hearts of Belarusians.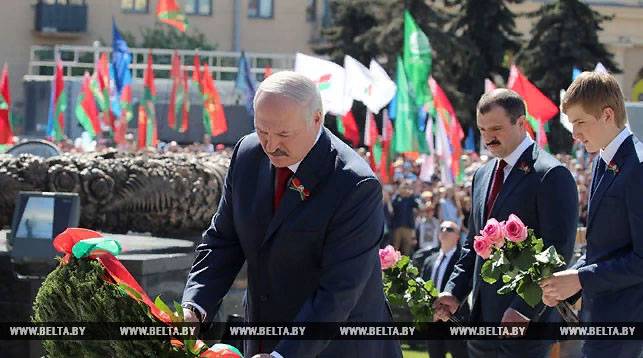 After that, the President of Belarus addressed the veterans, giving them a very original order - not to die earlier than he (Lukashenko).
Lukashenko:
I wish veterans long life and health. And before I did not die, remember!
After some time, Lukashenko commented on the journalists' questions about why the Minsk City Executive Committee did not sanction the holding of the "Immortal Regiment" action. We remind that the organizers of the rally did not receive official permission, however, about a thousand people took to the streets of the Belarusian capital as part of this rally.
President of the Republic of Belarus:
I was asked a question: why were we forbidden with portraits of relatives, those who died to go or come ... So, remember: no one in Belarus will ever forbid the holy and will not forbid. Just do not politicize it and declare that we almost forbid something. Everyone has the right to honor the memory of his characters, walk where he sees fit, with a portrait and lay flowers. This is holy, great. It will always be in Belarus.
Recall that in Belarus a similar "Immortal Regiment" campaign took place - "Belarus remembers".