Military equipment and ceremonial calculations were solemn march through the center of Donetsk. The parade overshadowed by the banner of Victory and the DPR
stories
.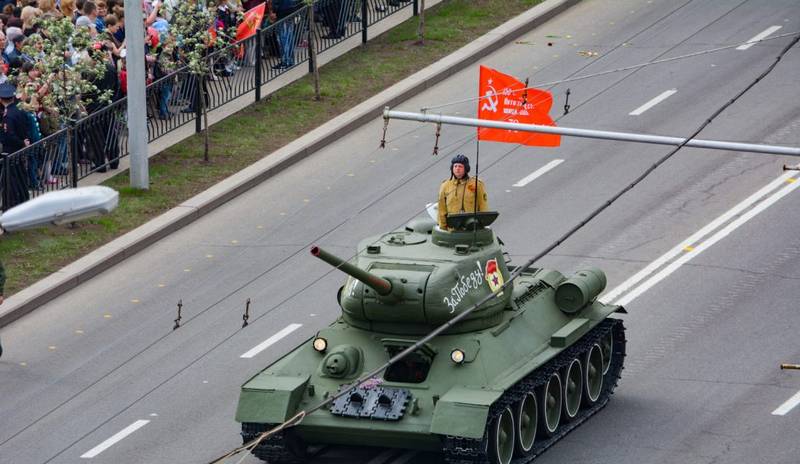 The solemn procession of troops led by the commander of the operational command of the DPR Denis Sinenkov. After him, the youngest participants of the parade - a company of pupils of the Republican Military Lyceum - entered the central street of Artem. Among them was Sergei Tolstoy - the son of the Hero of the DPR, the legendary battalion commander Mikhail Tolstoy (Givi).
For the first time in the history of the Republic, a "box" of foreign military personnel — a consolidated unit of South Ossetia — was held in Donetsk with a parade march.
The public approval of the first Army Corps, which took part in key military operations, including the battles for Debaltseve, Ilovaisk, Uglegorsk, and the legendary mound Saur-Mogila caused special approval of the public.
On the street Artem proceeded ceremonial calculations units of the Republican Guard. In 2015, the guards closed the Debaltsevsky Cauldron, 14 watches reflected the attack of the enemy in Logvinovo.
After the Armed Forces, the cadets of the Academy of the Ministry of Internal Affairs, as well as the personnel of the internal troops, marched through Donetsk. It was he who defended Slavyansk, Donetsk airport, and now serves under Yasinovataya and in the Gorlovka village of Zaitsevo.
A cadet of 20 calculations closed the cadets of the Donetsk All-Arms Command School, headed by the representative of the command and teaching staff - Hero of the DPR Andrei Zaitsev. His crew
tank
in 2015, he double-rammed in a battle near Uglegorsk.
The brightest part of the Parade was the passage of a mechanized column. The legendary T-34 again appeared before a large audience. It was this tank that stood on the Saur-Grave, and in the 2014, it was at the epicenter of the battles for the legendary height. Together with him, another vehicle, unsurpassed by the Nazi army, the staff GAZ-67, the Katyusha and the lorry, drove through the center of Donetsk.
The demonstration of modern designs was opened by the column BTR-80 of the "Sparta" battalion, commanded by the Hero of the DPR Arsen Pavlov (Motorola). It was followed by infantry fighting vehicles, T-64 and T-72 tanks, Strela-10 air defense missile systems, Gvozdika and Grady self-propelled guns, regimental mortars, Rapier anti-tank guns, D-30 and Msta-B howitzers. At the end of the column - Soviet twin anti-aircraft gun ZU-23-2, consisting of two large-caliber machine guns.
Watched the march 35 thousands of residents of the DPR and guests from Kiev-controlled areas of the Donbass. Together with them were the commander-in-chief of the Republic, the head of the DPR, Alexander Zakharchenko, members of the government, deputies, cultural workers, scientists, and social activists.