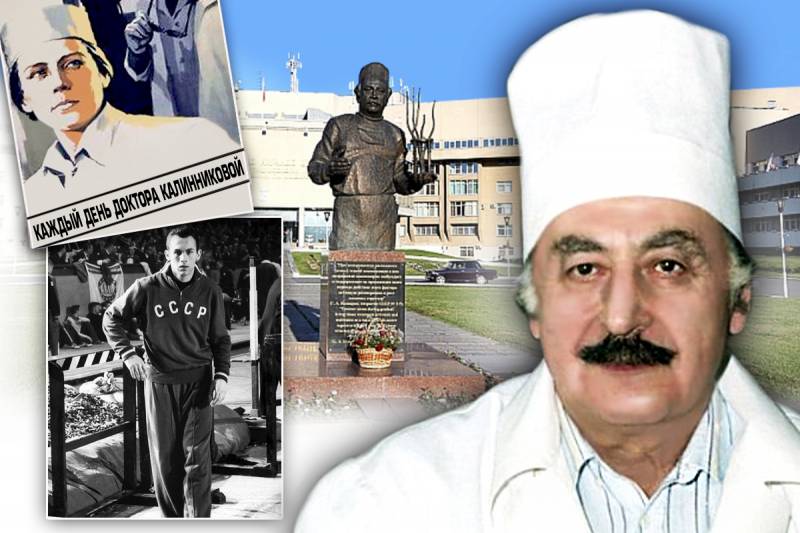 Tired of talking and arguing,
And rub tired eyes.
In the filibustier far blue sea
The brigantine raises the sails ...

Pavel Kogan,
poet front-line soldier died for the Fatherland
in 1942 year near Novorossiysk
Each year contains a lot of large and small anniversaries, round and non-circular, among which there is necessarily another anniversary of the release of the film "Everyday of Dr. Kalinnikova" on the screens.
If we consider this film as a work of art, then this, of course, is not the top. But I am not a film critic, but an ordinary viewer, but a viewer who is addicted to all the notes, turns, texts and subtexts of this picture, because due to circumstances I have a long and mystical connection with her. From this position I want to remember, tell and reflect on this film.
In 1973, the Soviet Union made a movie about Soviet orthopedic surgeons (those that operate on bones), clever girls and innovators who treat people in a remote province, and so successfully that people simply break into these operations, creating a queue long in some years. The secret of success lies in the discoveries and methods that tirelessly develops the head of the hospital, Dr. Kalinnikova. She lives only with work, there is no time to even summarize everything and defend her dissertation, and without it, Moscow does not recognize it, does not give funds for development limits, and even sent a very skeptical PhD to check.
In general, it would seem a typical scientific and production kinostampovka: the conflict of "good with the best", not a single negative hero, several light dramatic scenes with short experiences. By the end of the action, all skeptics and opponents will see and feel the rightness of the main character, promising that they will re-educate the city authorities for funds-limits.
That is how the film was received by the broad masses; it did not arouse much interest, it was shown and is shown very rarely. Although everyone who happened to watch it, they say they do not regret the time spent. The picture is very warm, well-crafted, nothing is prolonged, the events are arranged richly and densely, the scenes, especially imitating real life, say, conversations with patients, seem to be shot by a hidden camera method. Actors play brilliantly, but what composition! Khokhryakov, Yasulovich, Alexander Kalyagin and Ella Lezhdey - a checker from Moscow, a hustler-journalist performed by Valery Zolotukhin and an inspired Ia Savvina in the lead role. It is even strange that such masters agreed to decorate with themselves such a primitive scenario.
And only in our time, when all the "underwater" have surfaced, can one finally fully assemble
history
, logic and communication. The script of the film is based on the story of the great sportsman jumper, the repeated world champion Valery Brumel. The story is called "Do not change yourself", and it is not a "netlenka" at all. It is unlikely that anyone, except for a very small circle of people, read this work, and I suspect that Brumel was not so eager to gain the laurels of a recognized prose writer. Just once Valery got into a terrible disaster, terribly crushed his leg, it was, one might say, destroyed, and only one doctor in the world, the Kurgan surgeon Gabriel Ilizarov, undertook and was able to recreate the leg completely from what was left of it. It would seem a triumph, cut laurels, weave a wreath! Yes, there it was!
We need to understand those times. Brezhnev reigns, his main principle is "the stability of personnel at all levels," the main thing is that the "frame" is devoted and understandable to the "upper comrades". So, all levels are "stable" frames, I mean the nomenclature. So zasel that mouse past does not whisk.
I remember the words of Svyatoslav Fyodorov: "The most powerful and united mafia in any state is doctors. Often, they influence the leaders of countries through personal healers more than family members, and ... feel free to use this influence to eliminate competitors. " Fedorov learned this when he tried to treat foreigners on his ship-clinic in the ports of other countries ...
First, Brumel long and unsuccessfully treated all the then Moscow "luminaries". He heard about Ilizarov when he was completely desperate, and not from official sources, but from the mouth of popular rumor, which was already coming in waves from Kurgan. After staying at the Ilizarov in the treatment of considerable time, Valery saw firsthand how the then medical nomenclature, all these velmozhnye laureates and Heroes of Socialist Labor, who decided that past achievements will provide them eternal "feeding", ostentatiously suppressed, privately vilified and generally spread rot Siberian nugget trying remove it like a carnation crawled under the heel in a shoe.
It should be added that Ilizarov began to develop his method immediately after graduating from the medical institute in 1944, being a beginning surgeon in the middle of a sea of ​​young crippled front-line soldiers with bones and arms and legs broken during the war. In some, these bones did not want to grow together, forming dangling false joints, in others they grew wrong and ugly, in the third they were shortened after the fragmentation of the fragments was removed ...
So Brumel decided to help his doctor, using the rules of the then nomenclature games. He wrote his story, and he did not dare to refuse to print it. True, in the story Ilizarov bred in the image of Dr. Kalinnikov, the other characters are also renamed, opponents are especially carefully encrypted, but the events are described as real, and, most importantly, the preface first named the name of Ilizarov as a prototype. This was for him one of those papers, without which in those days you were a bug.
The then metropolitan scientific and artistic intelligentsia was a fairly close and dynamic circle of communication. Brumel was a part of this circle, therefore the plot and the hero of his story were quickly interested by the filmmakers, and once the book was printed, it was easier to get permission to shoot, and received it. But then that nomenklatura medical mafia, which realized that Ilizarov, going his own way, still managed to start a detour, had already entered the game ...
The shooting turned into a real fight under the carpet, into a secret scandal that excited "knowledgeable" Moscow. But whoever has enemies gets friends. The people of creativity, whom the atmosphere of the dude, like Ilizarov, tried to give a shoulder. The role of Dr. Kalinnikov tried Mikhail Gluzsky, Yevgeny Leonov, Sergey Bondarchuk. In response, in the department of science of the Central Committee of the CPSU it was said: "This charlatan Ilizarov will not be on the screen!" I had to play tactical games again, taking the main role as an actor instead of an actor.
The film was able to make and release on the screen. It is the reflection of the struggle for it and the work of the film group, which shot it. I am more than confident that the actors, cameramen and everyone else felt themselves during the filming of a cohort of comrades, whose mission is to break through the vile nomenclature asphalt that rolled Ilizarov and his group. If you know all this, then the picture looks very different.
In 1987, the idea of ​​doing lengthening the legs with the help of Ilizarov technology to increase the growth of healthy people hurt me. The desire to make this experience, and myself, became my hobby, mania, power alone ... Ilizarov himself had already become a global figure, it was impossible to get through to him. But throughout the Union, his many students worked, and I began to travel around them and offer my idea. It was here that I heard from almost all of them that allegedly Ilizarov himself in the middle of 70 had performed such an operation to one student who, because of his height, had difficulties with the bride, and for this operation, quite successful, the doctors almost put him as if unresolved experience on a healthy person. Referring to this story, all the doctors wanted me to bring paper from the Ministry of Health with official permission for the operation. I had to get this paper. Only God and I know what it was ... I still dream of how meekly, thoroughly, and forever exhibited me the sleek masters of the cabinets, which I had to work my way through for months. Only in 90, the year flashed: Ilizarov's pupil from Zaporozhye, Anatoly Andreevich Devyatov, listened to me and said: "It's good, come and work on it in the autumn ..." But that's not destiny! He died in September suddenly from a heart attack, so I did not get there then ...
But it was Devyatov who told me that the myth about Ilizarov and a short-term student was born after the film "Every day of Dr. Kalinnikova", where for the first time the phrase-sentence about "lengthening" of healthy people was heard, and phrases about forbidden experiments on healthy people as threats to the main character.
Two years later, in Volgograd, I finally met the then-unknown surgeon, a PhD, with whom we secretly started and brilliantly implemented our idea. Now he is a doctor of science, academician, honored inventor of Russia, author of books on anthropometric cosmetology. People from all over the world go to him and his group to lengthen and straighten their legs. I myself was also very famous, became the character of the Russian Guinness, the book "Divo", as the first person in the world who grew to 42 in the year 6.
Several years ago I was introduced and introduced to Valery Zolotukhin. It was he who, playing in a journalist's film, offers Kalinnikova to make him an operation to increase height, and that, they say, his secret love is already 190 cm long, scary to approach ... And most importantly, he offers it,
I speak
absolutely the same words and phrases with which I started a conversation with all the surgeons I went to: "You are lengthening the sick, and I suggest you lengthen the healthy, it's easier ..."
I myself was able to watch the film for the first time in 2002, buying a cassette in the State Film Fund, and before that I had only heard conversations about it! Zolotukhin was having fun: "It turns out that I first played you, and then you showed up, not knowing this either in your sleep or in your spirit ..." Exactly noticed. Mysticism, and only ... And we also dreamed a little about making a comedy film about an adult man who had straightened his legs, increased his height, and how he "grew" into life after that. Since then, I have become very interested in the fate of our former patients, and the material has accumulated just amazing!
Once a fortnight, be sure to watch a film about the doctor Dr. Kalinnikova. I look and feel something like nirvana. It seems to me that similar feelings should have been experienced earlier by successful filibusters at rest, when behind a glass of hot grog they looked at their trophies hanging along the walls of a cozy house, recalling desperate youth and ingenious maturity, their whole life, always torn beyond the limits of rules and partitions, directly - to the high point!
PS In December 2004, Dr. Egorov died suddenly on 52 from cancer. The center of anthropometric correction created by Egorov was headed by his youngest student, Barinov Alexander Sergeevich. At the present time, patients from 48 countries of all continents have visited and continue to come to lengthen and straighten their legs.
PPS Only a few years after the release of the film on screens, Ia Savvina was able to get to know Ilizarov himself when she visited Kurgan as part of the film delegation. The photos of this meeting from the personal archive of Yi Savvina are shown for the first time.
Will the questions be?
Нет!
It's all quite
No matter!
You should wander through life
Bravely!
To search
Yourself, yourself, yourself!