The so-called Western world is split into two parts in connection with yesterday's statement by Donald Trump about a unilateral withdrawal from the so-called "nuclear deal" with Iran. Recall that the agreement to which they have been going for years implies the refusal of Tehran from nuclear research, the introduction of IAEA control missions to the existing facilities of the core field. In exchange, Iran's economic and political sanctions that had been in effect for Iran were lifted. Now the United States is actually bringing down all the agreements, which opens Pandora's box both in the Middle East and in the world at large.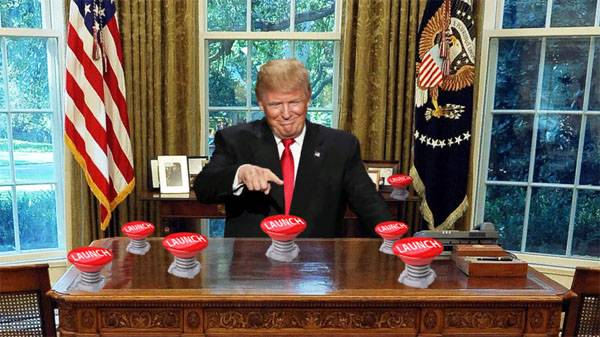 European leaders have taken an anti-Ram position in this matter, noting that a way out of the agreement with Tehran can lead to what was initially opposed to in the world - the emergence of a nuclear
weapons
. After all, Iran, as previously stated by representatives of its authorities, when leaving the deal, the United States is not going to comply with it unilaterally.
The authorities of Italy, Germany, Austria, the Czech Republic, Britain, France and other European states spoke out against Trump's move.
Criticized the actions of Trump and in the United States. In particular, former Secretary of State John Kerry noted that Trump overnight destroys everything that has been built up over many years of diplomatic work. Trump answered Kerry like this:
John Kerry can not accept the fact that he had a chance and he missed it! Stay out of the negotiations, John, you're hurting your country!
Truly didn't specify what exactly the chance "missed" Kerry.
In Egypt, they said that a unilateral US withdrawal from a deal with Iran could lead to "adverse consequences for the region." Official Cairo notes that it is necessary to immediately sit down at the negotiating table to work out a new agreement. At the same time, the Egyptian authorities say that Arab countries should also take part in the drafting of a new agreement, whose opinion should be taken into account.
Ardently supported the actions of Trump in such countries as Israel, Saudi Arabia and the United Arab Emirates. At the same time, the Saudis have already declared that they are ready to "compensate" the volume of oil supplies to the world market in connection with the return of sanctions against Iran.
They opposed Trump's decision in China and Japan.