Serbian President Alexander Vucic has expressed a position on behalf of the country's leadership on the Euro-Atlantic integration of Belgrade, which is often spoken about recently. According to Vucic, expressed at a meeting with Russian President Vladimir Putin, Serbia is not going to become part of NATO. At the same time, the Serbian president added that Serbia is not going to join any other military blocs, since the constitutionally is a militarily neutral state.
Vucic:
Serbia will maintain its independence, Serbia will maintain its military neutrality and Serbia is not going to become a member of NATO, as well as any other military alliance.
Earlier in Serbia, a survey was conducted on the topic of the attitude of the country's citizens to the idea of ​​NATO membership. 84% of Serbs said that the idea of ​​Serbia's joining the North Atlantic military bloc is not supported, recalling how exactly NATO bombed Belgrade in 1999 and how NATO forced Kosovo from Serbia. Less than 10% of the population were in favor of joining NATO.
Alexander Vucic arrived in Moscow to participate in events dedicated to the 73 anniversary of the Victory.
Vucic:
I would like to say that Serbia has demonstrated that it is a reliable partner of the Russian Federation, and in moments that were not easy for Russia, Serbia never went against the interests of your country.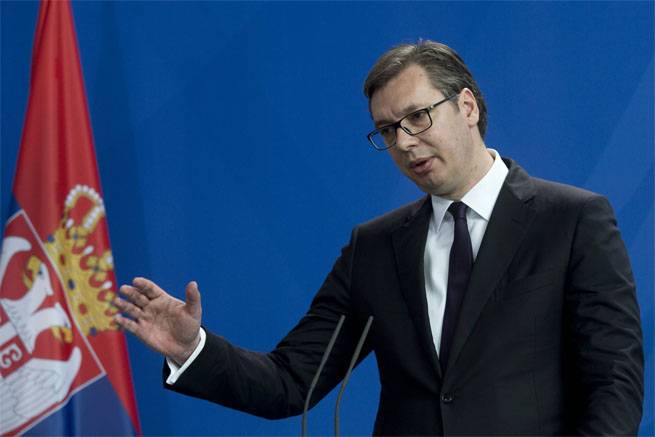 Recall that Serbia is one of the few countries on the European continent that did not support anti-Russian sanctions. Trade between Serbia and the Russian Federation grew by 10% in the first months of this year compared to the same period last year.
The Serbian media noted that Serbia will never trade friendship with Russia.