Peace, friendship, chewing gum ... Mike Pompeo again in the DPRK
American diplomacy, which in the light of recent appointments has become a frank continuation of the activities of the CIA, decided to take the DPRK in full turn. South Korean media reported on the visit to Pyongyang of US Secretary of State Mike Pompeo. This is the second visit of Pompeo to North Korea, but the first after the official assumption of office by the head of the US Department of State.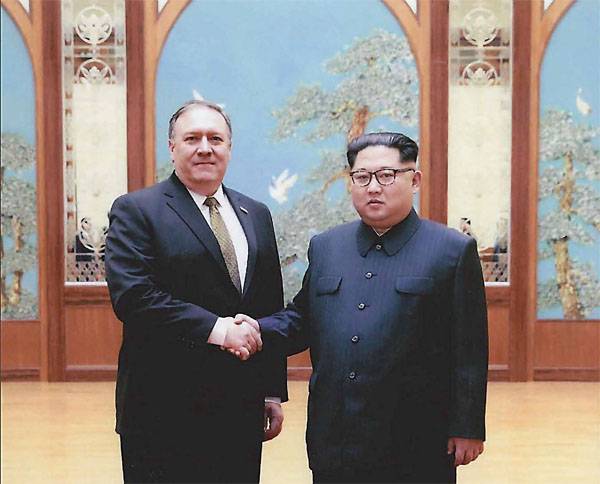 The main task that Mike Pompeo is going to solve is the task of agreeing on the date and place of the future meeting of the leaders of the United States and North Korea. In addition, there is an accompanying task - to return to the United States with three US citizens who are currently in North Korean prisons, accused of espionage and "subversive activities." We are talking about US citizens of Korean origin: Pastor Kim Don Chole, who has been in prison since 2005, and lecturer Tony Kim and his colleague Kim Hak Son, arrested exactly a year ago.
It became known the day before that the DPRK leader Kim Jong-un visited the Chinese city of Dalian. There, probably, also held consultations on his future meeting with US President Donald Trump. At the moment there is no information as to where the head of the United States and the DPRK can meet, however, it is known that such a meeting is scheduled for this summer.
Recall that the main goal of the United States in contacts with the DPRK is Pyongyang's complete rejection of the nuclear missile program and the destruction of the existing arsenal of nuclear weapons.
weapons
. It seems that the United States does not want to repeat its "puncture" with the USSR, when, having actively participated in the collapse of the country, they did not go to the end and did not force their loyal leadership to eliminate the nuclear shield.
It is noteworthy that Pyongyang is offered to negotiate against the background of the unilateral US withdrawal from the agreement with Iran.
http://www.globallookpress.com