Last week, the USS "Thomas Hudner" missile destroyer (DDG-116) of the class "Arleigh Burke" completed acceptance tests, reports resource
www.korabli.eu
.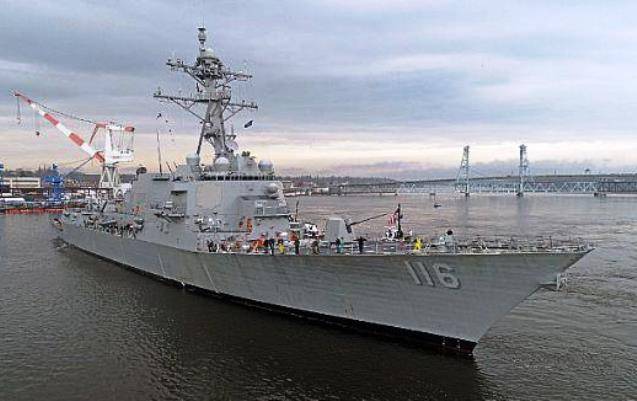 According to the press service of the Pentagon, the tests took place off the coast of Maine.
According to the report, "during tests, many onboard systems of the ship were tested, the characteristics of which met or exceeded the standards of the US Navy."
The military department added that the USS destroyer Thomas Hudner (DDG-116) will become the 36th Arleigh Burke class ship to be handed over to the American naval shipbuilding company Bath Iron Works
the fleet
.
The launch of the ship is scheduled for the current year.
The resource recalls that the ship was named after naval pilot Thomas Hudner, who was awarded the Order of Honor for his actions in the Korean War. The construction of the ship was started in February 2013. The keel laying ceremony took place in November 2015 of the year. Launched in April 2017.
Help resource: "The destroyer displacement at full load 9217 tons. The length is 156 meters, the width is 20 meters, the draft is 10 meters. Travel speed - 31 node. Crew - 380 man. "