Most expensive in
stories
The US Navy aircraft carrier Gerald R. Ford (The Gerald R. Ford) again failed, writes "ExpertOnline" with reference to Bloomberg. The previous failure happened in January of this year and it was also associated with problems with the power plant.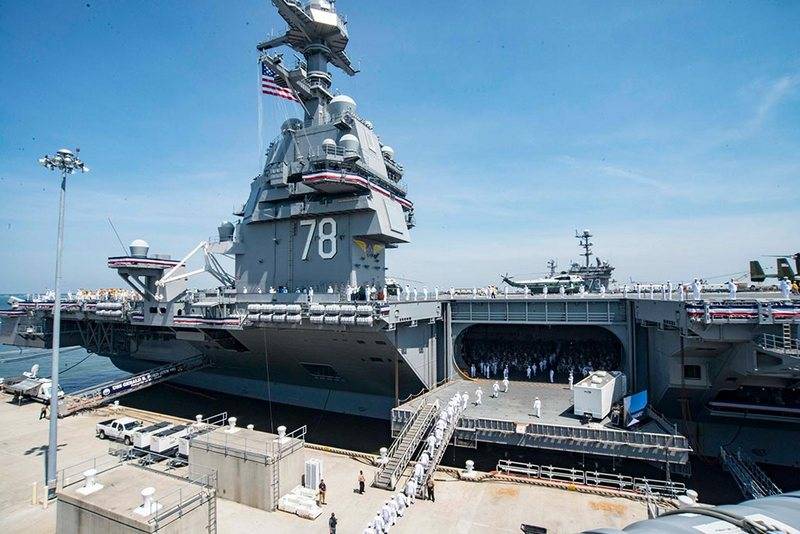 The ship should begin combat duty in the 2022 year, at the moment it is undergoing planned tests. As noted by Bloomberg, the aircraft carrier is forced to return to the port due to the detected "manufacturing defect", as well as "inappropriate actions of the team." Repair terms are not established yet.
Earlier edition of The National Interest acknowledged that the aircraft carrier of the new generation "Gerald R. Ford" is not able to participate even in the conduct of conventional operations. Experts point out that United States Secretary of Defense James Mattis was even asked to move the test period for the newest ship to 2024.
According to NI, systems critical to Gerald R. Ford are unreliable. Because of this, the aircraft carrier becomes vulnerable to attack. In addition, due to problems with the electromagnetic subsystem of the vessel, seafarers may not be able to provide maintenance or repairs to the ship.
The cost of the newest American aircraft carrier is 12,9 billion dollars. The ship is also the largest in the world. Its length is 333 meter. It can accommodate 4.400 people and 75 aircraft units, including F-35 fighter jets. In the ceremony of commissioning the ship in May 2017, attended by US President Donald Trump. He called the aircraft carrier "100 000-ton message to the world."