This year, in the Victory Parade in Moscow, not only foot units and traditional combat equipment will take part, but unmanned robotic systems for various purposes, according to
News
.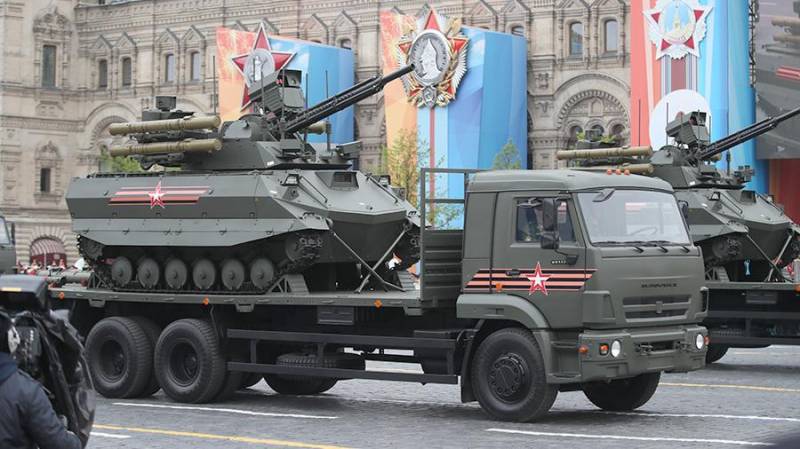 As always, an air defense system will be presented impressively at the parade. Viewers will be able to see various anti-aircraft missile systems. Among them - the air defense system "Thor" in the Arctic version (on two-link all-terrain vehicles DT). Together with them, the newcomers of the parade are snowmobiles of the TTM 1901-40 with the Pecheneg machine guns.
"For air defense will follow entirely new. For the first time, UAVs will be transported (by trucks) over Red Square - ground and flying. The decision to participate in the Victory Parade of the robotic complexes was made at the last moment, before starting training at the Alabino range, "the newspaper writes.
Ground systems will be represented by the Uran-6 mine clearance system and unmanned
a tank
Uranus-9. The "Corsair" UAV will be part of the same box.
"Corsair" is a class closer even to the operational purpose of an unmanned vehicle, which is literally fresh, it has recently completed state tests, and we will be mass-produced,
explained Deputy Defense Minister Yury Borisov.
Paired with the Corsairs, Katran unmanned helicopters intended for reconnaissance in the interests of
fleet
.
According to expert Denis Fedutinov, participation in the parade of UAVs is an indicator of the role that robotic complexes began to play in the Russian Armed Forces.
"Corsair" and "Katran" are new systems that have not previously been shown at exhibitions or at other open shows. The devices are quite large class, which will be clearly visible to the spectators at the parade. In addition, the Corsair is the first Russian drone drone,
said the expert.
The parade of the Strategic Missile Forces with three mobile launchers of the Yars complex will complete the parade. However, this time the attention will be focused not only on them, but also on their escort. For the first time in the Red Square will appear modern "carts" - UAZ "Pickup" with large-caliber machine guns "Kord". They were developed taking into account the Syrian experience and are intended for the created "light" brigades and special operations forces.