In Ukraine, a massive action "Do not mourn" is launched, which is associated with the so-called "day of grief and reconciliation" introduced by the Maidan authorities. This day in Ukraine is officially celebrated today - May 8, and is, in fact, an attempt to replace May 9 as Victory Day. However, more and more Ukrainians are connecting to a flash mob, which expresses disagreement with the position of the official authorities that a sense of grief should be experienced about the victory over Nazism.
Flashmob is gaining momentum in social networks. Both ordinary Ukrainians and well-known politicians in the country joined it.
Mikhail Dobkin
8 May, I will not grieve. There is 22 June for grief. 9-th May celebrate. In my family, all the years after the end of the Second World War, Victory Day was celebrated this way. With tears in his eyes, but joyfully and festively. Because the Victory cannot be remembered differently. Winners and their descendants cannot. Happy holiday everyone! Happy Victory Day!
Miroslava Berdnik
I do not grieve!
I celebrate Victory Day 9 May!
And we can reconcile only when they, like the Germans, repent for all the crimes against the Ukrainian people that they have committed!
Svyatoslav Mamchur
I do not grieve, and am not going to reconcile with aspiring fascists. Tomorrow I will celebrate Victory Day.
Against this background, in Ukraine, individual media outlets decided to make a rating of "the most dangerous cities for Ukrainian statehood." We are talking about cities where thousands of people can gather to celebrate Victory Day, including the action "Immortal Regiment".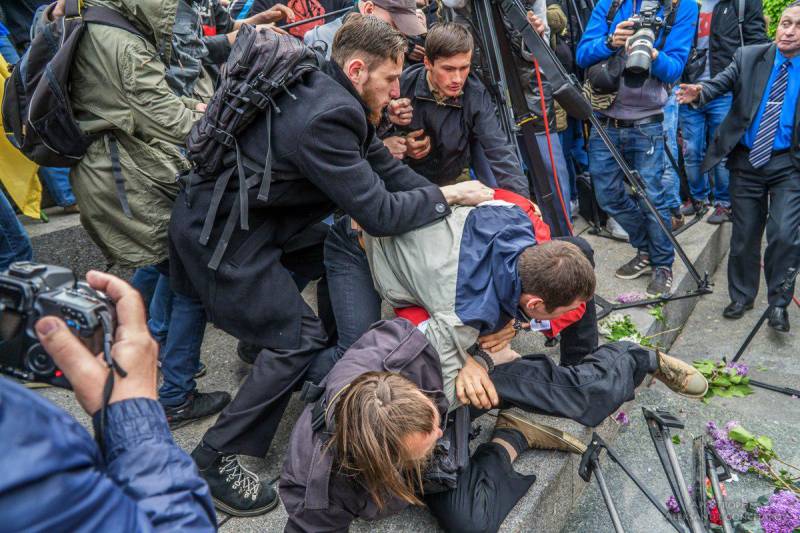 Thus, the Ukrainian "Apostrof" included Kharkiv, Odessa and Dnipro (Dnipropetrovsk) among the "most dangerous" ("separatist-minded") cities. In these cities, the shares of the "Immortal Regiment" promise to be the most massive 9 in May.