Russian President Vladimir Putin sent congratulations on the 73 anniversary of the Victory in the Great Patriotic War to the leaders and peoples of the countries that were previously part of the Soviet Union as republics. Congratulations were not sent to the heads of the Baltic republics, as well as Ukraine and Georgia. Instead, the Russian president congratulated the Ukrainian and Georgian peoples, as he had done in previous years.
From the congratulatory material:
Vladimir Putin congratulated the leaders of Azerbaijan, Armenia, Belarus, Kazakhstan, Kyrgyzstan, Moldova, Tajikistan, Turkmenistan, Uzbekistan, Abkhazia, South Ossetia, as well as citizens of Georgia and Ukraine on the 73 anniversary of the Victory in the Great Patriotic War.

The congratulatory messages of the head of the Russian state emphasize that Victory Day is a sacred date and a symbol of unity and unparalleled heroism of our peoples who fought shoulder to shoulder on the war fronts and worked selflessly in the rear in order to save the Motherland and all humanity from fascism.

Vladimir Putin emphasized the importance of passing the undistorted truth about the events of World War II to the younger generation, and also stressed that the duty of current generations is to prevent the repetition of the tragic events of the past.

The Russian president expressed confidence that the traditions of fraternal friendship and mutual assistance, hardened during the years of severe trials, will remain a reliable basis for the development of relations between our countries.

Vladimir Putin conveyed sincere gratitude to all war veterans and home front workers, wishing them good health, longevity, peace and prosperity.
Meanwhile, the President of Ukraine shared with Ukrainians information that his wife Marina found information about her grandfather missing (born in the Samara Region). Recall that Ukraine is not celebrating Victory Day, but "a day of remembrance and reconciliation."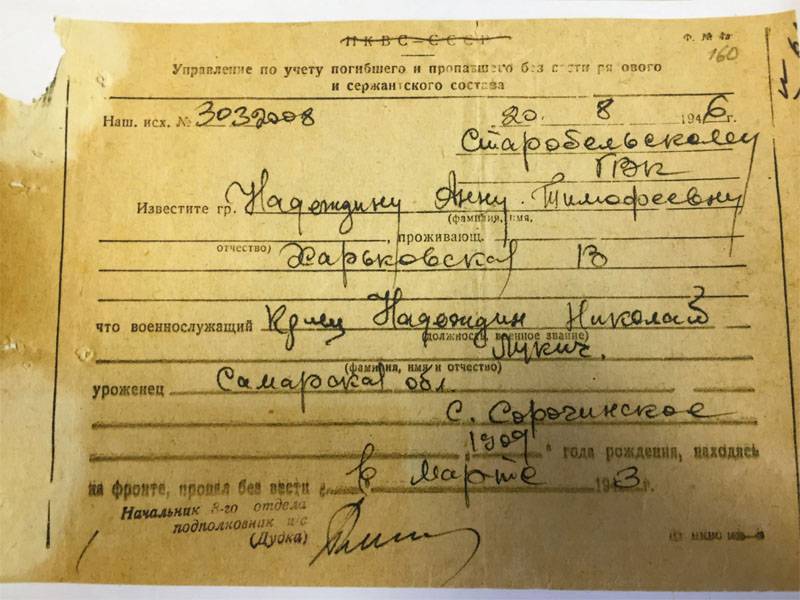 From the message Poroshenko:
It is difficult to keep tears when you find even the slightest information about your relatives who were missing on the fronts of the Second World War ...

Probably, the Day of Remembrance and Reconciliation must especially sacred power. After all, Marina found the news today that her grandfather Nadezhdin Nikolai Lukich went missing last March in 1943.

Since September, 1941, Marina's grandmother, has been waiting for her husband, and her mother, for her father. All these long years, the family tirelessly conducted searches to find out about his real fate, find the grave and personally pay homage and memory.

Finally there was at least some clue! With God's help, we hope to find the burial place as soon as possible. Looking further ...
Read more..
.