Judging by the comments on the materials about the nomination of Dmitry Medvedev by the President of Russia as a candidate for the post of Prime Minister, the overwhelming majority of Russians took this news with a significant amount of negativity. We are talking not only about the comments on the informational-analytical portal "Military Review", but also in other mass media that belong to different infolving services, from ultra-liberalism to hurray-patriotism.
Even more questions from citizens appeared in connection with the names that were heard the day before from the mouth of Dmitry Medvedev himself. We are talking about the proposed candidates for the vice-premier posts. Judging by Medvedev's statements, most of the deputy prime ministers will remain in the government, but they will simply exchange chairs and briefcases. When Medvedev, at a meeting with party colleagues, pronounced the name of Mutko as a candidate for the post of deputy chairman of the government in charge of the construction industry in Russia, a laughter passed through the room that was hard not to hear even through the air of the central TV channels.
Due to the fact that the "horses at the crossing" (at least in the top of the cabinet) decided not to change, many citizens of the country asked the question: why did Vladimir Putin need the support of the majority of Russians in the elections, because people polling stations, demonstrating this support to the head of state, and hoping for real changes in the economic life of the country.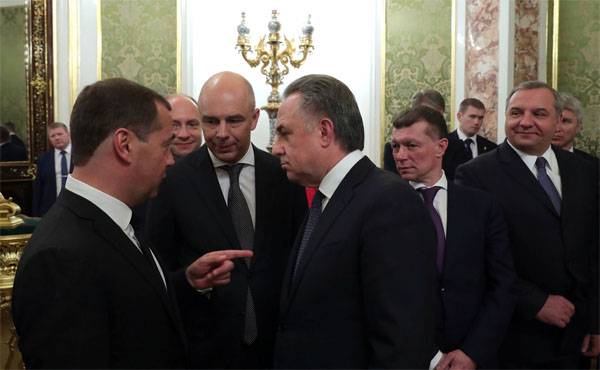 Now there is reason to doubt that with the current top government and rising oil prices, the cabinet will show a desire to increase the efficiency of its work. Or in the political and economic circles of Russia today there really is no choice on the positions of managers?
Read more..
.