Today, during the regular session, the Armenian parliament will try to elect the chairman of the new government of the country. It so happened that, at the moment, the ruling party has not put forward its candidate, and therefore, in fact, the only candidate for the premiership is Nikol Pashinyan, who headed the opposition rallies in Armenia.
Pashinyan himself has in fact proclaimed himself the winner, declaring that, with a 95% chance, a "people's candidate" will be elected chairman of the cabinet. Pashinyan endowed himself with this immodest term, in addition, on the eve of that, he also announced May 8 in Armenia as a day off.
Pashinyan quotes
News.am
:
Elections will begin at the 12 clock in the National Assembly. As agreed, in 11 hours I urge citizens to gather at Republic Square. I have already received official assurances that the ARFD, Coming Out, Tsarukyan will vote in favor, as well as a number of deputies from the RPA (Republican Party of Armenia). I declare tomorrow a day off.
The day before, an American Armenian-born musician Serzh Tankian, a soloist of the System of a Down group, arrived in Yerevan to participate in the action in support of Pashinyan. According to him, Armenia should rally around the "new leader".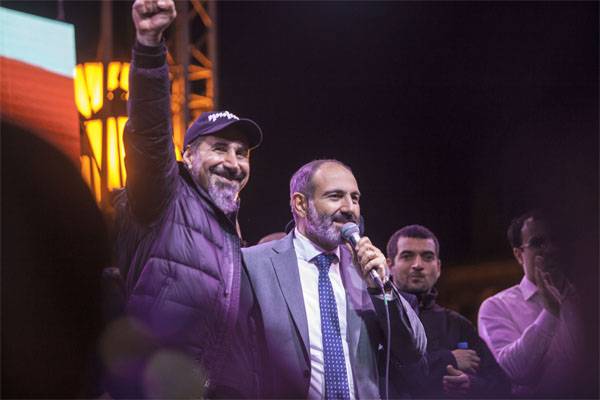 At the same time, Pashinyan, who rushes to the main post in Armenia, has still not really presented his political and economic program. As usual in such cases - the main emphasis on slogans from the scenes and the stands at a large gathering of people.