Not exactly what was expected. The troops received simplified versions of the T-80BVM
In the Victory Parade, which will be held in Murmansk, T-80BVM is involved in its newest version. The photo of cars published on the site of the Ministry of Defense. Reports about it
Messenger of Mordovia
.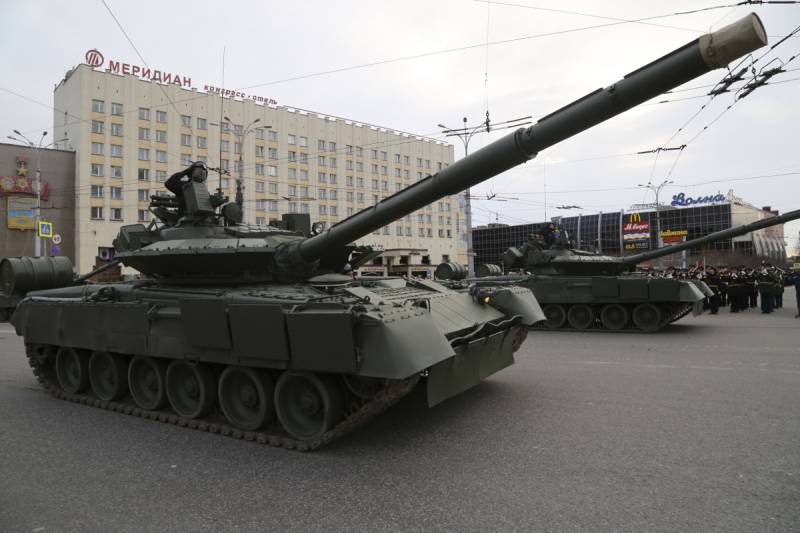 "Many military experts, and even ordinary lovers of the national armored vehicles, were puzzled that the front vehicles turned out to be in a somewhat simplified configuration than the variant" lit up "under Luga, on the territory of the 33-nd military ground. A little later, this "Luga" "eightieth" together with T-90M and BMPT "Terminator" took part in the exercises "Zapad-2017", "says an article by Lev Romanov.
Then the machine was pleased with a sufficiently powerful protection of the stern and side projections, in many respects similar to the one that is now used on the T-72B3 of the 2016 sample of the year and will be on the T-90M.
"What we see at the Parade in Murmansk: if the front projections of the tower and the body are covered with powerful" reactive "armor Relic, then the dynamic defense of the sides is the same as in the T-72B sample ... 1989 of the year. And, as you know, it is no longer effective enough, "the author notes.
Apparently, the military leadership stopped at a cheaper version of modernization.
At the same time, the publication notes that "even in this form, the T-80BVM is a very dangerous opponent for the enemy's armored vehicles, including the most modern one". In addition to the mentioned "Relic", the tank received a modern multi-channel sight "Sosna-U" with automatic target tracking and a thermal imaging channel, as well as an understudy sight. This will allow firing shells and guided missiles at any time of the day.
Ministry of Defense of the Russian Federation