The program of modernization of the Russian Navy at 2011-2020 years involved the construction of one hundred ships, but this goal will not be achieved, writes the French newsletter TTU.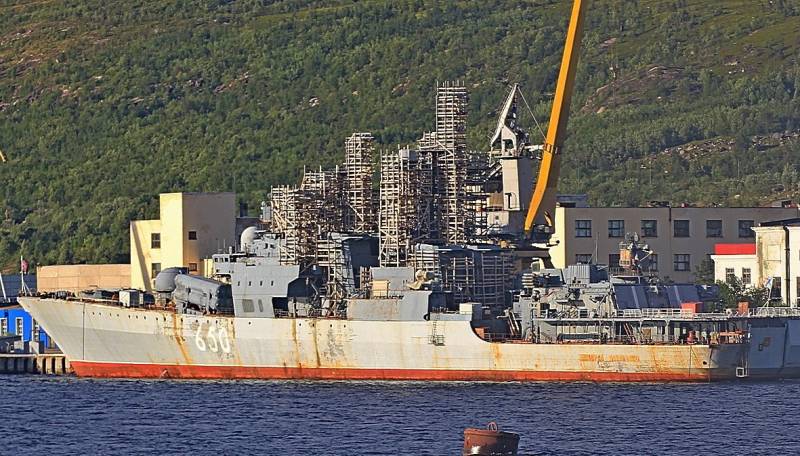 The large anti-submarine ship of the 11551 project "Admiral Chabanenko" under repair at the 35 shipyard in Murmansk, 2016 year
.
"The project for the purchase of amphibious helicopter ships-docks of the Mistral type, which were to replace the large amphibious assault ships of the type" Ivan Gren "(the main one started construction in 2004) showed that the Russian design bureau cannot offer an acceptable solution in terms of the construction of large-sized ships. This feeling is confirmed at the moment when the aircraft carrier Admiral Kuznetsov, whose age reaches 30 years, goes to the shipyard for modernization, and the design work on its replacement has not begun, "the article cites.
bmpd
.
On the other hand, according to the author, "Russia's potential in the field of anti-submarine defense remains a priority, and although nuclear-powered cruisers like the Kirov are still being upgraded at the Sevmash shipyard, they will eventually be replaced by destroyer ships under the cipher Leader." .
The publication clarifies that Sevmash is located on an area of ​​300 ha and "simultaneously builds fourth-generation 11 nuclear submarines (five SSBNs of the Borey-A type and six APRKs of the Yasen type)."
Although the Russian fleet faces a serious repair problem (aging infrastructure, personnel, cooperative ties, reduced funding ...), Russia reduces the number of new ships - "the gap between the plans for the 2020 year and the naval composition that is combat-ready is huge," the author writes.
Despite the approved plan, "the Navy will include only 5 of 20 submarines of a new generation, 9 of 20 frigates (such as Admiral Gorshkov), 4 of 14 of IRC 22160 project, 16 of 41 corvettes and small anti-submarine ships, one of the six landing ships ", Says the material.
And only two minesweepers from the two high-speed patrol ships from 14 planned for construction and 14 - according to the plan, the publication states.
"Without saying a word, the General Staff of the Russian Navy revised its ambitions in favor of smaller ships, but significantly increased the production of cruise missiles by hundreds of copies. Moscow, while maintaining its capabilities in the field of naval nuclear deterrence and neutralization, has significantly increased the threat from the sea to its closest neighbors, "the author concludes.