The terrorists lost their command post as a result of the sorties of the Iraqi Air Force to Deir-ez-Zor. Under the rubble of buildings destroyed during US air raids in Raqqah, dozens of civilians were found. Reports about it
FAN
with reference to Syrian sources.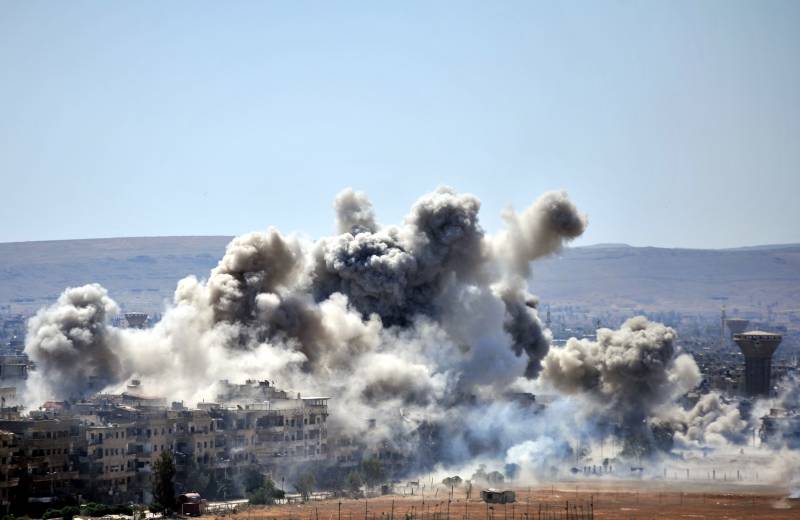 After the Islamic State (IG, grouping banned in the Russian Federation) suffered serious losses in manpower and lost most of the previously occupied territories in the province of Damascus, the militants returned to the negotiating table with employees of the Russian Center for reconciliation of the warring parties and representatives of the SAR government. However, in the second half of the day, fighting resumed, with the result that several more buildings passed under the control of the CAA. In the course of the next day, according to the ultimatum, the radicals will have to give up their positions. In the meantime, another militant group left Yalda, Babila and Bayt Sahm settlements and went to Aleppo under the terms of a peace agreement with the Syrian authorities.
In the city of Al-Bab (Aleppo Province), civilians again rallied against the arbitrariness of the Islamists of the Syrian Free Army (FSA). In response, the militants opened fire on demonstrators. Information about the victims has not yet been received.
Local media reported on the opening of a strategic highway running through the cities of Hama and Homs. Previously, the highway was cleared of mines and IEDs laid by the militants. The CAA soldiers also destroyed all barricades and trenches blocking the tracks.
Last day Iraqi
aviation
resumed combat sorties in Syria. Aircraft attacked ISIS military facilities in the province of Deir ez-Zor. As a result of the bombing, the headquarters of the Ishilovites were destroyed. Recall, the Iraqi Ministry of Defense previously reported that sorties are carried out with the permission of the general security center as part of Russia, Syria and Iran. Meanwhile, 13 IS terrorists voluntarily surrendered to the Kurdish SDF and YPG units. Local activists claimed that the militants joined the ranks of Kurdish forces, as has happened many times before.
It was reported that the Syrian Democratic Forces (SDF) had transferred additional units to Rakku to begin construction of new fortified points on the outskirts of the city. By evening, it became known that under the rubble of buildings destroyed as a result of the air strikes of the US Air Force coalition, bodies were found around 50 dead civilians.
Throughout the day, Russian aviation inflicted air strikes on fortifications of a terrorist association in the south of Idlib province. Under the strikes of the VKS aircraft of the Russian Federation, the military facilities of Dzhebhat an-Nusra (banned in the Russian Federation) were located near the settlements of Arinba and Tramla.