The American aircraft carrier group launched attacks on Syria. Blows are carried out, as reported at the Pentagon, in territories controlled by ISIS (* prohibited in the Russian Federation). Commanding
flotilla
American ships, the main striking force of which is the Harry Truman aircraft carrier, reports that the operation began on May 3 and will last "indefinitely."
According to the latest data, we are talking primarily about aircraft departures from a US aircraft carrier, which is currently located in the eastern part of the Mediterranean Sea. In addition to the aircraft carrier Harry Truman, the AUG of the US Navy includes warships such as the cruiser Normandy, four destroyers with missile weapons, and several escort ships. The AUG in April came out of the Norfolk military base and a few days ago Gibraltar passed, finding itself in the Mediterranean.
In the US, they say that the strikes "are coordinated with other participants in the operation in Syria to avoid air incidents."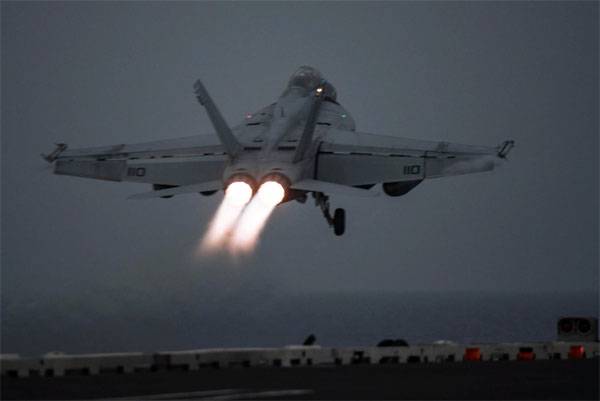 Execution of strikes is carried out in the framework of the operation "Unshakable determination." No information has been received on striking the ATS government forces at this moment.
Press Service of the US Navy:
Our flight operations in support of the Inherent Resolve mission demonstrate the continued commitment of the US and regional partners to eliminating IS * and the threat it poses to the international community.