The Food and Agriculture Organization of the United Nations (FAO), whose main task is the fight against hunger in the world, publishes depressing statistics. Every year in the world the percentage of soils that are no longer suitable for agriculture is growing. According to the FAO, today due to erosion, salinization, leaching of organic matter, acidification and a number of other reasons, about a third of all soils are no longer included in agricultural circulation.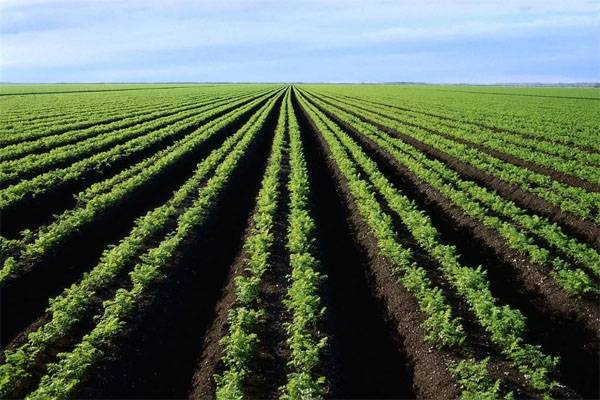 Given the fact that 1 centimeter thick takes a thousand years to form the upper layer of soil by nature, reducing the area of ​​soil suitable for agricultural activity with frightening intensity threatens the existence, without exaggeration, of billions of people on Earth.
According to FAO forecasts, already in 2050, the population of our planet will pass over the line in 9 billion people. To date, over 1 billions of Earth's inhabitants face hunger daily. After 30, years of hunger and systematic malnutrition will suffer up to 35% of the world's inhabitants. First of all, we are talking about the regions of Central and South Asia and Africa. The agricultural resources of Europe and North America are being actively depleted, including due to the constant use of chemically active substances designed to increase the yield of certain crops, to destroy insects.
Under such conditions, predictions about future wars are not for oil, but for water and food are not "heresies" of science fiction, but those that are close enough to objective reality.
The agricultural census in Russia, conducted in 2016, also revealed a downward trend in agricultural land. If in 2006, the area of ​​such lands in the RF was 450,6 million hectares, in 2016 it was reduced by more than 100 million hectares. At the same time, the sown area increased from 74,8 million hectares to 79,2 million hectares. On 107 thousand hectares over the years 10 reduced the area of ​​perennial fruit plantations (orchards). In the Russian case, many lands were artificially removed from agricultural use — for example, reissuing for construction, the creation of semi-ecological landfills.
FAO proposes to address the problem of soil degradation by implementing a land management program. FAO also proposes a ban on the use of harmful methods of farming, as well as to regulate the use of antibiotics in the agricultural sector.
Is Russia capable of responding to new challenges that have been expressed in the UN food organization? And another question: can Russia remain a supplier of environmentally friendly agricultural products to both the international and domestic markets?