In the US, told about the main advantages of the Su-57
The Drive experts reviewed and assessed the technical characteristics of the Su-5 Russian multi-role fighter 57, reports
RIA News
.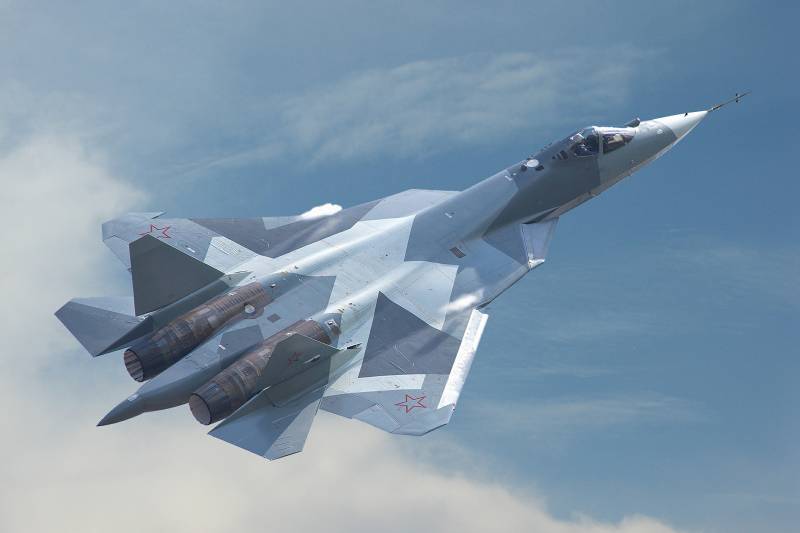 The authors noted "a balanced approach of the Sukhoi Design Bureau to the development of stealth technology," which allows reducing the visibility of the fighter. According to them, "Su-57 occupies an intermediate position between the American F / A-18E / F Super Hornet and the Chinese J-20."
The experts also drew attention to the complex radar with an active phased array antenna (AFAR) X-band, the elements of which are located not only in the nose of the Su-57, but also on the sides: "Such a station not only significantly increases the pilot's situational awareness, but also position in relation to the aircraft of the enemy makes the fighter almost imperceptible. "
Separately mentioned optical-electronic radar detection system air targets.
This optic-electronic impact system was seen on several Su-57 models and, if it works as it is announced, it can have a big impact on protecting the aircraft against advanced homing missiles,
Says the article.
As the authors noted, "the reliability of the fighter gives a powerful chassis, which is indispensable when performing various unscheduled operations, and the three-dimensional system of deflection of the thrust vector greatly increases the maneuverability of the aircraft."
This is the first time that a three-dimensional thrust vector deflection system is integrated into a fighter with stealth technology,
they write.
Experts were also struck by the intra-body placement of the missiles: "The Su-57 has several compartments for air-to-air and air-to-surface missiles."
As a result, the authors came to the conclusion that a promising machine is a "clever combination of capabilities" and may well become a "skillful and very valuable fighter".
Recall, the first flight of the Su-57 took place at the beginning of 2010, in Komsomolsk-on-Amur. The serial batch of 12 machines of the Russian Aerospace System of the Russian Federation should be received in 2019 year.
http://www.globallookpress.com