"Antonov": go to the practical implementation of the project An-188
Kiev and Ankara made a decision in principle to continue the development of the An-188 military transport aircraft, reports
RIA News
message of the press service of the state enterprise "Antonov".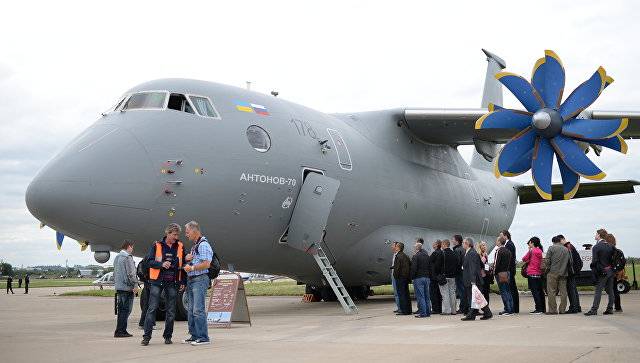 Ukraine and Turkey are moving to the practical implementation of a joint project to create a military transport aircraft An-188. This decision was made during the international aerospace salon Eurasia-2018, in which the aircraft industry of Ukraine was represented by the state enterprise Antonov,
says release.
The indicated aircraft is a modification of the Russian-Ukrainian transporter An-70 with the replacement of components by Western ones, as well as the installation of foreign turbojet engines instead of fan-engines developed by Progress Design Bureau (Ukraine).
The expected carrying capacity of the An-188 is about 50 t, the capacity is up to 300 equipped military personnel. The aircraft will also be able to transport military cargoes, including helicopters and other equipment.
Earlier, Antonov announced that the An-188 aircraft was being sent to the exhibition in Antalya, however, according to the Center for Analysis of Strategies and Technologies (CAST), in fact, the only remaining An-70 prototype was presented in Turkey.
RIA News / Ramil Sitdikov