The powerful assault rocket launcher system (MLRS) Golan-1000 aroused considerable interest among military experts. There is still no consensus on which of the previously released samples of military equipment is closest to the new
arms
, writes
Messenger of Mordovia
.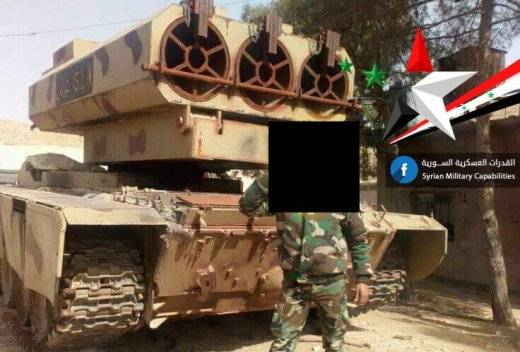 Such attention is understandable: the installation with three guides is capable of firing rockets of record caliber in 500 mm and weighing half a ton.
"Some people think that this system, created on the chassis of the main combat
tank
, have in common with the Russian TOS-1A. Indeed, there is a certain influence of Solntsepek. True, the Russian machine refers to flamethrower systems that use special rockets with incendiary or thermobaric composition. And Golan-1000's ammunition seems to be high-explosive fragmentation, "says Dmitry Lemeshko in the article.
Experts even recall the 380-mm rockets with a solid-fuel engine of the German Shturmtigr self-propelled guns. These munitions were also used during street battles to destroy various fortifications.
There is also an opinion that the Golan rocket line is closer to Soviet products. "Our soldiers at the final stage of the Great Patriotic War based the ammunition for the famous Katyushas made the so-called" flying torpedoes ", which were much more powerful than the original and effectively destroyed the defense of the Nazis," the author writes.
In Syria, in the manufacture of "enlarged" PC as the basis used elements of serial 122-mm BM-21 "Grad" or 130-mm Vz.51. The firing range is small, but experience has shown that damage to the enemy is significant - both material and moral.