With the support of Washington, Tel Aviv is ready to "build up" the nuclear potential of the Islamic Republic of Iran as much as necessary.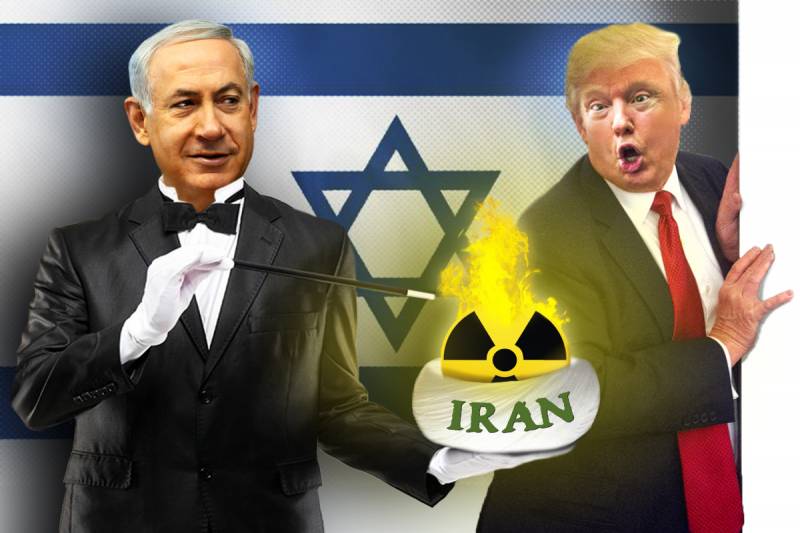 After a short pause, which came after the "strange" missile attack of the Western allies on Syria, in the Middle East again very restless. To the fore, as a kind of "world threat" from Washington, Iran is pushing more and more insistently and unusual for modern diplomacy. And if a few months ago, Saudi Arabia was in the forefront of the attacks on Tehran's policy, now the sheikhs have effectively overshadowed Israeli Prime Minister Benjamin Netanyahu.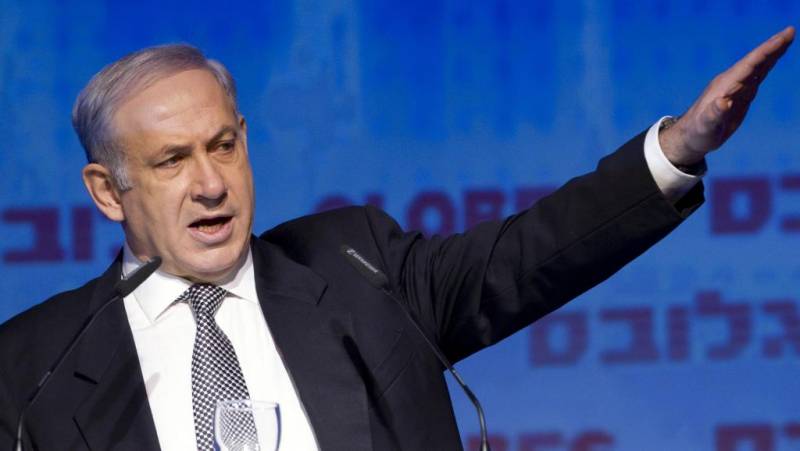 It is unlikely that his latest statement that the very "atomic button" is about to appear in Tehran came as such a big surprise. No one even among the general public was surprised at the moment Netanyahu had chosen for such a statement. We must somehow support the "elder brother" - President Trump, who continues to reiterate his readiness to terminate a large-scale nuclear agreement with Iran, in which the United States, by the way, is just one of the participants.
Netanyahu decided to announce the so-called "secret atomic archives of Iran" right from the TV screens, clearly counting on a powerful wave in the press. Characteristically, the Israeli prime minister was pushing mostly not at the facts, but at the "volumes of the dossier", as if tens of thousands of pages of documents already by themselves serve as evidence that Iran developed a nuclear plan.
weapons
. Which, according to the Israeli leader, can be activated at any time.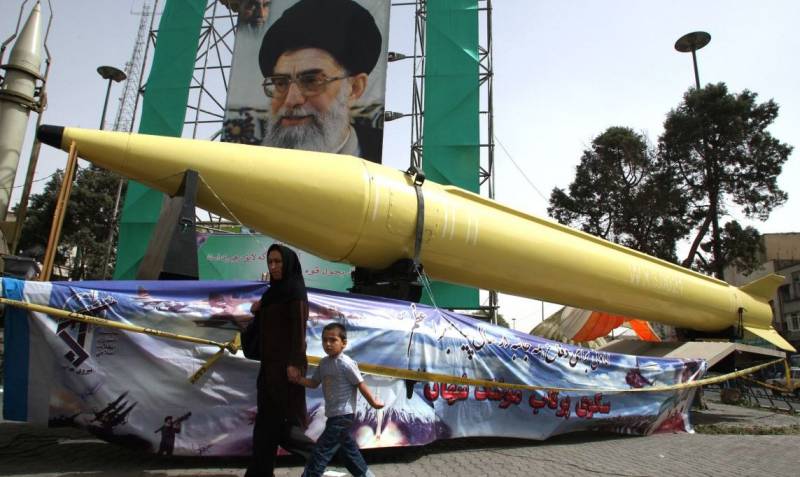 From an engineering point of view, this is, of course, nonsense, if only because it will take considerable time to obtain the required volumes of nuclear materials. In addition, modern technology makes it possible to draw conclusions that work is being carried out at nuclear facilities of a military profile, even by indirect indications. But they, as you can understand, Netanyahu does not have.
Is this why the record obtained for the prime minister by the valiant Israeli intelligence officers has not been sent to the address, that is, to the International Atomic Energy Agency of the IAEA? Israel sent its "unique data" only to those who are ready to believe everything that Netanyahu will say. That is, the Americans. There is information that others were also invited to familiarize themselves with the notorious dossier, including Russian specialists, but of what level and profile, only God knows.
It must be said that in Tehran, in response, they either did not sit back in the trenches or keep silent, did not seem to be going to. And they did not. In this sense, the meeting of Admiral Ali Shamkhani, Secretary of the Supreme National Security Council of Iran (HSRB) of Iran with Secretary of the Central Commission for Political and Legal Affairs of the Communist Party of China Guo Shangkun, held in the last days of April was very timely in this sense. What is called, they covered just in case the Chinese straw.
Meanwhile, the IAEA responded quite promptly to a request from Tehran, a statement from whose spokesperson for 1 said that the agency has no reliable signs of activity related to the development of a nuclear explosive device in Iran after 2009. According to the IAEA, in December 2015, its Director General, Yukiya Amano, presented a report to the Agency's Board of Governors with a final assessment of past and current outstanding issues regarding Iran's nuclear program.
A statement from the IAEA spokeswoman indicated that the Agency estimated in this report that by the end of 2003, an organizational structure had been established in Iran suitable for coordinating a number of activities related to the development of a nuclear explosive device. Although some activities took place after 2003, they were not part of a coordinated effort. The Agency also estimated that these activities did not advance beyond the limits of feasibility and scientific research, and did not acquire certain relevant technical capabilities.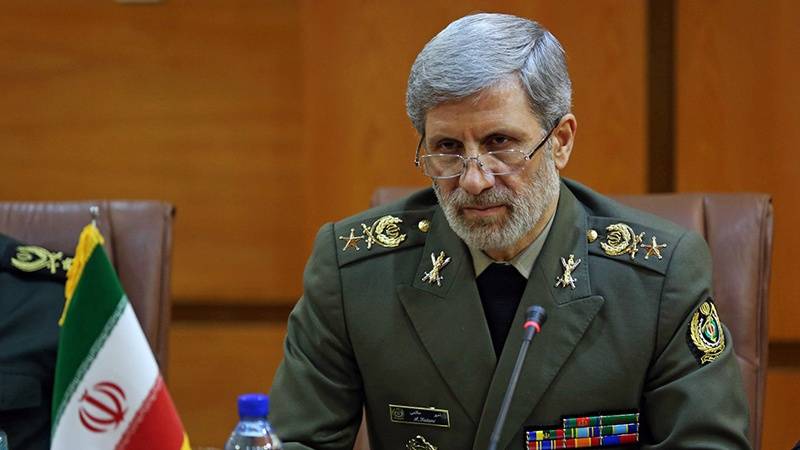 Finally, on Tuesday, immediately after the IAEA's response to official Iran, and at the same time Netanyah, a prompt official statement from Tehran to Tel Aviv sounded. Iranian Defense Minister Brigadier General Khatami, calling the Israeli Prime Minister's claims unfounded, added that the Netanyahu propaganda show was intended to conceal the crimes of the Zionist regime against the Palestinians. He also noted that the behavior of the United States in relation to the nuclear transaction is dangerous for the international system. The minister recalled Iran's full compliance with all obligations under the nuclear deal and described the current US administration's move to break or stop the deal as evidence that "Americans cannot be trusted."
General Khatami, adhering to the traditional harsh style, not forgetting to call the Israeli occupation regime, reminded Tel Aviv and his allies that "they must stop organizing conspiracies and stop behaving dangerously, because Iran's response will be surprising and make them sad." We will not even try to solve such eastern rebuses, saying only that the long-suffering Syrian land is best suited for a real military confrontation between Iran and Israel.
It is clear that in the Islamic Republic today it is clearly not inclined to break the nuclear deal, nor to full-scale confrontation with Israel. It's another thing that they also don't want to curb their "complicity" in Syrian affairs and don't really want to be disturbed there. For the sake of such a goal, Iran may well try to use the "Netanyahu Show" in the same style as it once was bluffing about its own successes on the way to owning that very nuclear button. However, in Tehran, they should also understand that they will not succeed in sorting out the same Syria "for three", along with Russia and Turkey, for a very long time.
Apparently, it is in Syria that the same dog is being buried again, which today, once again, it either digs or tries to dig deeper into the Israeli Prime Minister. It is significant that a few months ago, the official Tel Aviv, having received a carte blanche from Washington for a housewarming party in Jerusalem, immediately became more active at Bashar al-Assad. From Israel, they immediately began to remind the Syrian leader of the occupation of Lebanon, support for Hezbollah, and at the same time that the Golan Heights would never return Syria and can completely block the way to Earth for pilgrims and seasonal workers, both from Syria and from Lebanon.
Meanwhile, many, whether in Tel Aviv or in Jerusalem, understand that to get involved in a war with Iran, even in Syria, for Israel is equivalent to bringing the barrel of a pistol to his temple. Even with full support from the United States, and, as a result, from many of its allies, this is a guarantee of almost complete isolation in the region. This is almost instantaneous flooding of the country with disruptive elements. This is a divorce with Turkey, with which the dialogue was only just getting better, and with Russia, the dialogue with which for many years has been surprisingly constructive.
Finally, it is a guaranteed loss of a truly huge and at the same time cheap labor resource - hundreds of thousands of Palestinians. And even (here's a paradox) the potential transformation of Saudi Arabia into an ally of Iran. Who knows what contradictions are now actually stronger: interfaith among Islamists or between the Green Banner apologists and Israel.