Most of the Eurofighter 128 fighters, which are in service with the German Air Force, are currently unsuitable for military operations, reports
TASS
the message of the weekly Spiegel.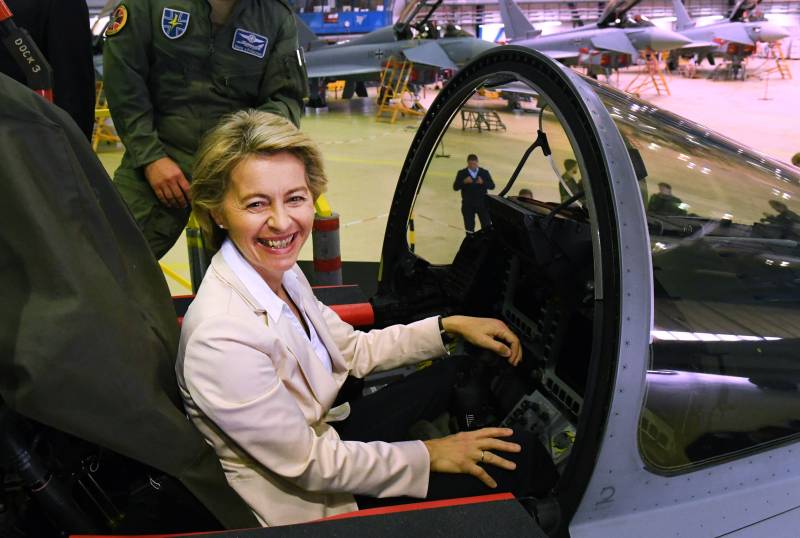 German Defense Minister Ursula von der Lyayen in the cockpit of a fighter Eurofighter
According to military sources, many fighters do not allow to fly due to technical problems with the containers located on the wings: "Inside these containers, special sensors are installed, to which the cooling system is connected. The tubes through which the fluid flows can leak, and because of this, in turn, the operation of the sensors can be completely disrupted. "
At the same time, the uninterrupted operation of the sensors is necessary for participation in military maneuvers - "among other things, they notify the pilots if other planes approach," the interlocutors explained.
"The German Air Force will not be able to perform tasks within NATO in the event of a potential conflict with such technical problems," the author concludes.
According to sources, only "about ten fighters have positive technical conclusions", allowing them to take off for operations.
In addition, the publication points to the lack of missiles for air combat: "now they will be enough only to equip four fighters."
Recall that in the 2018 year of the German Defense Ministry and the Bundestag deputies have repeatedly expressed concern about the lack of weapons and uniforms in the German army. So, in February, the press leaked details of the report of the defense department, which reported that the military lacked body armor, winter uniforms and tents to participate in NATO missions.