As a result of new combat sorties of the American Air Force in Hasaka, ten civilians were killed. The Armed Forces of the Russian Federation destroyed a large military facility of Islamists in the north of Hama. Reports about it
FAN
with reference to Syrian sources.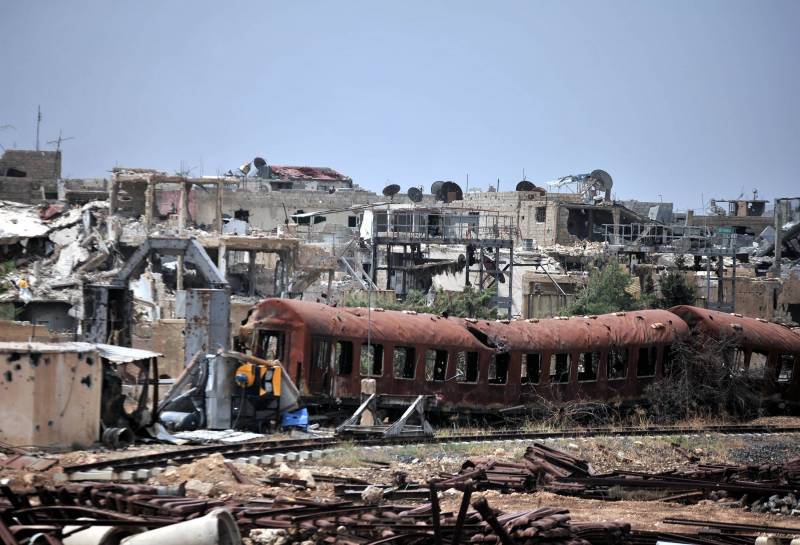 During the whole day in the south of Damascus, armed clashes continued between the Syrian Arab Army (SAA) and the militants of the Islamic State (ISIS, the group is prohibited in the Russian Federation). During the offensive, government forces managed to take control of the Al-Alaf and Al-Bassel areas northwest of Hajar Al-Aswad. In previously liberated territories, a large
weapons
warehouse of terrorists.
In Aleppo, internecine clashes in the ranks of the Syrian Free Army (FSA) resumed. According to the information, one of the radical brigades of the formation attacked the positions of the former allies in the canton of Afrin, as a result of which both sides suffered casualties in manpower. In the east of the region, a common grave of Syrian soldiers was found. The burial was located near the city of Muskan, around which the fighting took place a year ago. This territory was occupied by IS militants.
Aviation
the Western coalition carried out air raids in the area of ​​the village of Hajin in the southeast of the province of Deir ez-Zor. It is still unknown whether any of the civilians suffered. Later, the Western Alliance Air Force conducted reconnaissance flights on the west bank of the Euphrates over the territories occupied by government forces and their allies. Military experts noted that the United States seeks to provoke clashes between the Syrian army and the Kurds in order to fully get the east coast of the Euphrates and the oil fields located on it.
In the north of the province of Hama throughout the day there were fierce clashes between the forces of the terrorist coalition by the Syrian army. The VKS and Syrian Air Force provided significant support to government units. Allied airstrikes fell on the defenses of the Islamists in the area of ​​the city of Kafr Zeta. In the course of the massive air attack of the Russian aviation, one of the largest military facilities of terrorists was destroyed - an underground military base.
The air forces of the Western coalition, led by the United States, once again carried out combat missions in Hasaka. At this time, under the strikes of aviation in the village of Al-Fadel killed at least ten civilians, many were injured. Recall the day before the victims of US air strikes were at least 25 civilians.