Makarevich praised Medvedev. And a squabble broke out in a liberal environment
Political scientists in Russia are increasingly agreeing that at the moment Dmitry Medvedev remains the main candidate for the post of Prime Minister of Russia for the President of the country. As a confirmation of the version, in particular, Sergey Brilev's interview with the current chairman of the Cabinet of Ministers of the Russian Federation on the air of the Vesti on Saturday program is cited. In addition, Medvedev's media time has grown significantly in
news
broadcasts on other major TV channels in the country.
At the same time, the acting prime minister speaks every time about the achievements of the government during his time in the chair of his chairman. Medvedev recalls the decline in inflation to 2,5%, the low unemployment rate, which, according to him, fell below 5%. According to Dmitry Medvedev, the Cabinet in the conditions of sanctions acts "wisely and wisely."
It is noteworthy that the work of Dmitry Medvedev is not only praised by Dmitry Medvedev himself. So, the other day, on his Facebook page, such a person as Andrei Makarevich noted praise to Medvedev - however, praise for his presidential term.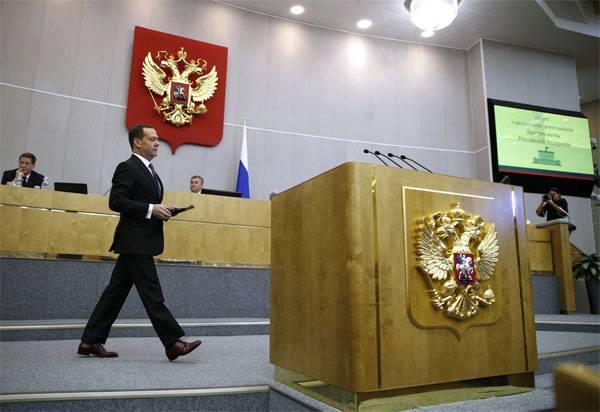 Makarevich
пишет
:
You can somehow relate to Dmitry Medvedev. We just need to remember that during his presidency we did not have the law of Dima Yakovlev, nor the laws of Spring, nor the war in Ukraine and Syria, the downed Boeing, nor the sanctions and confrontation with the whole world, nor the doping scandal, nor the madness of propaganda and pressure hate, nor the murder of Nemtsov ... We lived in a completely different country.
It is noteworthy that such an opinion of Mr. Makarevich was sharply criticized even by the most ardent fans of the political statements of this man. So, Yevgeny Roizman, in a commentary on the post of Makarevich, said that "under Medvedev there was South Ossetia". Further, the liberal masses boiled. Some praised Medvedev in the image and likeness of praise from Makarevich, others with foaming at the mouth began to remind how "with him" the presidential term was extended, and "persecution of Pussy Rayot" was conducted.
http://www.globallookpress.com