The situation can take advantage of enemies. Moscow warned Armenia
The forceful solution to the political crisis in Armenia, to which the opposition leader Nikol Pashinyan called, is unacceptable, as it will cast doubt on the legitimacy of the election of the prime minister, besides, the republic will have serious consequences, reports
RIA News
Statement by the Deputy Chairman of the Council of the Federation Committee on International Affairs Vladimir Jabarov.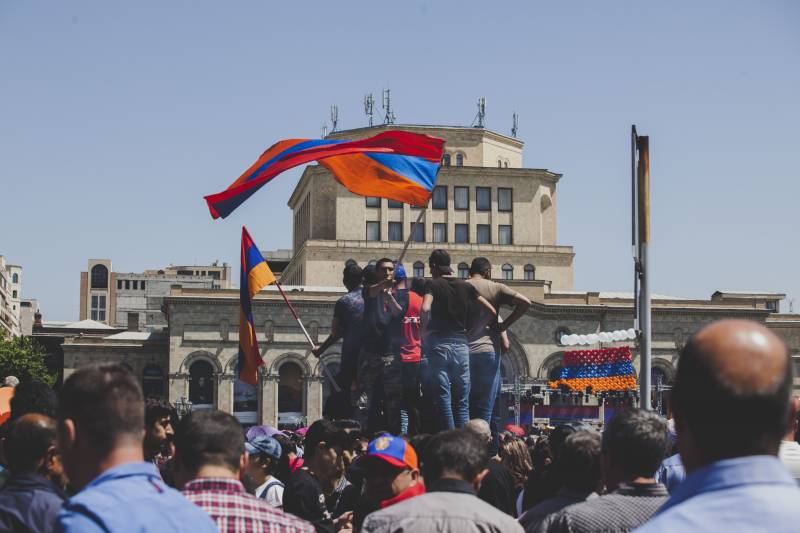 Pashinyan, whom the parliament did not choose the country's prime minister yesterday (45 votes "for" with the necessary 53's), called on supporters to take a total rally of civil disobedience on the morning of 2 in May, declare a general strike, block all streets, roads, ways to the airport ". According to the law, in a week the Armenian parliament will try to re-elect the prime minister, otherwise it will be automatically dissolved.
It is impossible to come to power in this way, since then the legitimacy of such a prime minister will raise doubts,
Jabarov said the agency.
Such a development of events is fraught for Armenia with serious consequences both inside the country and in the foreign policy sphere: Yerevan has enemies who will not fail to take advantage of this situation,
added on.
According to Dzhabarov, events in the country are developing according to a "very alarming" scenario.
After Pashinyan called for actions of defiance, to block the vital arteries, the likelihood of clashes between the police and supporters of the opposition leader,
he noted.
The Russian senator urged the parties to negotiate, expressing hope that common sense would prevail in the end.
It is embarrassing that the transition from presidential to parliamentary form in the country is very painful - it means that not everything has been thought out. It is obvious now that the situation was at some point missed,
he believes.
According to Jabarov, it is necessary to immediately hold parliamentary elections in the republic and change the procedure for electing the prime minister, for example, on the basis of a coalition of parliamentary parties.
http://www.globallookpress.com