Today is 4 since the terrible tragedy in Odessa, which divided the newest
history
cities on "before" and "after". Hundreds of Odessans, protesting against the unconstitutional coup and rampant radicals, against persecution of the Russian language and historical traditions, set up a tent camp on the Kulikovo Field 1-2 in May 2014. The first fights between the representatives of Antimaydan and the radical "ultras" took place on Grecheskaya Square, eventually moving to Kulikovo Field.
The campground was eventually destroyed. Anti-Maidan participants were forced to hide from the attackers in the House of Trade Unions. As you know, the building after a while was engulfed in flames. People tried to escape from the fire by jumping out of the windows. The radicals locked the doors, and for those who tried to escape, they opened fire from small and traumatic
weapons
. Those who jumped out of the windows and received serious injuries were beaten on the ground in the literal sense of the word - to death.
The official data on the victims of the rampant radicals are: 48 dead, 250 injured. 42 people died in the House of Trade Unions, six more - during the massacre in Greek Square.
Odessa deputy Vadim Savenko says that the authorities have hidden the real number of the dead, who, according to him, are 116 people.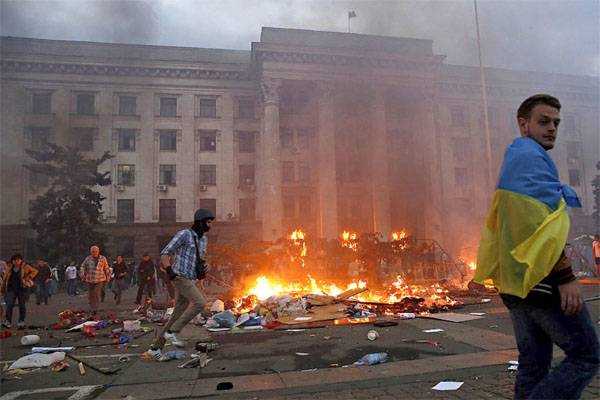 Until now, the real culprits of the terrible tragedy have not been punished. Moreover, the Ukrainian investigation is doing everything to establish the version of the guilt of the victims themselves - allegedly a fire broke out due to the fact that they threw petrol bombs from the windows and from the roof of the House of Trade Unions.
In the State Duma of Russia, the events in Odessa 2 of May 2014 were regarded as a repetition of the crimes of the Nazis in Khatyn and Auschwitz.
Today, actions in memory of the victims of the Odessa tragedy will be held in different cities of Russia, including the capital.