British Air Force aircraft began to perform tasks over the Black Sea. We are talking about the Royal Air Force fighters, which are based on one of the airfields of NATO Romania. We are talking about the air base to them. named after Mikhail Kogalnichanu.
From the statement of the British Ambassador Paul Brummel in Bucharest:
This mission (BILOXI) of air patrols confirms that we are able to respond quickly and effectively to any potential aggression or threat against the alliance or its members.
Air patrol over the Black Sea is carried out by Typhoon aircraft crews.
It is stated that now the British Air Force "will do everything to ensure that Romanian airspace is under a safe lock from any encroachment." Neither the Romanian Air Force nor the British Air Force is informed about who exactly "encroaches" on Romanian airspace.
Before the patrol mission began, more than 150 Romanian schoolchildren were invited to the airbase, to whom the British pilots told them that they were now under reliable protection.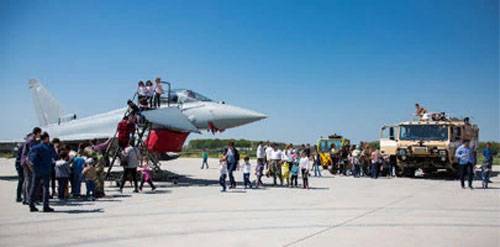 With great enthusiasm, at the beginning of the airspace patrol over the Black Sea, the Ukrainian media responded, noting that now "it will become significantly safer".