The Minister of Defense of Ukraine, Stepan Poltorak, confirmed the receipt of anti-tank Javelin missile systems from the United States by the Ukrainian army. At the same time, Poltorak reports when "direct work" with the US ATGM will begin in the Armed Forces of Ukraine. From the message of the Ukrainian Minister on Facebook:
I am grateful to the President of Ukraine Petro Poroshenko for the titanic efforts to obtain anti-tank complexes Javelin and the President of the United States of America Donald Trump for a positive decision, which has significantly increased the defense capability of Ukraine and provide Ukrainian military with modern weapons!
This solution will allow starting from theoretical to practical preparation of our Javelin calculations, which
will begin on 2 May
on the basis of training centers of the Armed Forces of Ukraine and create a powerful anti-tank reserve.
Congratulations to all on this important event!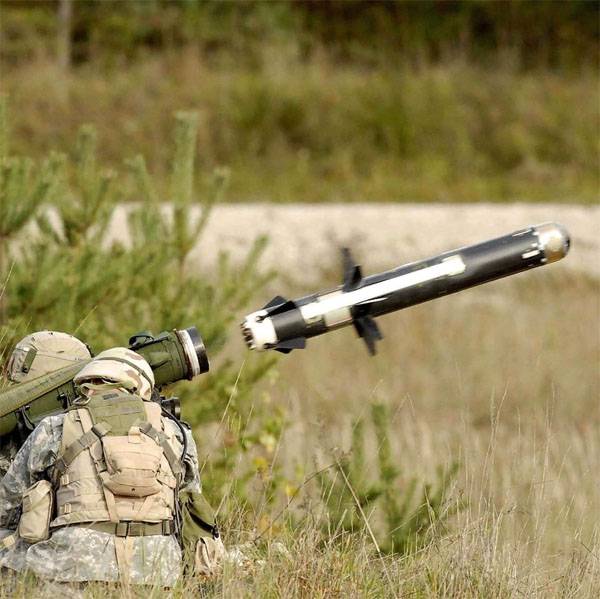 In the segment of social networks in Ukraine, they joked about this: "May 3 in Ukraine opens another sale of the mentor trading".
Recall that the Javelin ATGM should be stored at the Yavoriv military training ground in the Lviv region under the supervision of American military instructors. Officially, the way for their transfer to the Donbass is closed. But did the Ukrainian authorities ever pay attention to official regulations?
Earlier, foreign experts noted the senselessness of the appearance of the Javelin ATGM in the conflict zone for the simple reason that no
tank
attacks on Ukrainian positions are not carried out there. At the same time, it was noted that the very fact of the appearance of American ATGMs in the combat zone will automatically untie the hands of servicemen of the armies of the people's republics of Donbass to obtain modern weapons for defense needs.