American Journal
The National Interest
published with an article that is devoted to the "main enemy of the United States." Many would have thought that the publication would talk about Russia, China, the DPRK or Iran, but in this case, the journalists of this edition were much more objective and called things by their proper names. The NI noted that the main enemy of the United States is not Russia or China, but a huge cumulative debt.
At this moment, the total US debt counter shows the value of 21,165 trillion dollars. At the same time a few months ago, the US government declared that their task was to prevent the debt from overcoming the psychological mark in 20 trillions.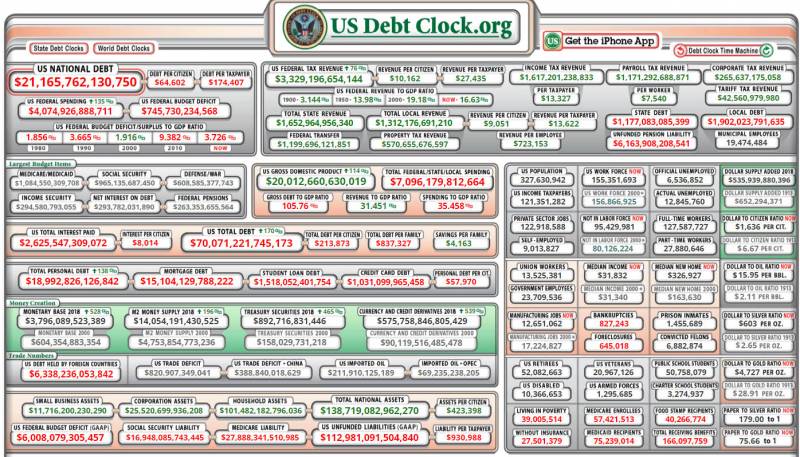 The article by Jörgen Möller states that the United States is close to a technical default. At the same time, international rating organizations in fact traditionally attribute the highest statuses to the US economy and its individual sectors.
It was noted that by 2022, the problem of debt will not be solved, and by 2028, the traditional approach to reducing the debt level will be completely excluded.
At the moment, as stated, there are two ways to solve the problem, but both of them will be blocked in Congress. It is about raising taxes or cutting costs. In other words, the United States wants to continue the practice: "get more and pay at the expense of others."
The publication notes that Washington is faced with the need to restructure debt, for which it will have to negotiate with Chinese and Japanese lenders, who have more than 2 trillion dollars in US debt for two. And if with Japan, when potential agreements are reached, problems are unlikely to arise because of the complete vassalage of Tokyo in relation to Washington, then negotiations with China may come to a standstill against the backdrop of the trade war that Trump actually declared the PRC.