The debate over whether Russia needs aircraft carriers has been going on for decades. Thousands of arguments have been proposed and refuted, dozens of detailed schemes of varying degrees of competence have been published, debaters have repeatedly turned both to screaming and hoarse. And the disputants never came to consensus.
Well, let me say a few words on this issue. Without claiming the ultimate truth, I will nevertheless try to substantiate the need for Russia of this type of ships and make it so that even the most inveterate skeptics no longer have the latest doubts. And, oddly enough, we will use the experience of the Syrian campaign.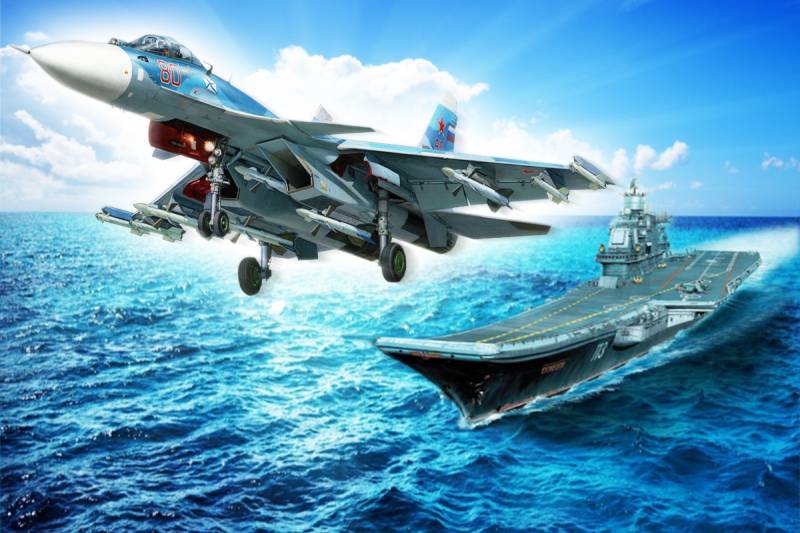 Let's try to consistently refute the most common arguments of opponents of the appearance of an aircraft carrier in Russia
fleet
.
The first and most "slaughter" of them is as follows: an aircraft carrier is a big target for missiles, and in case of conflict it will inevitably be drowned. There is a lot of cost, no profit, we will again find ourselves at the broken trough at the cost of many billions of dollars.
As a rule, adherents of this approach are confident that, apart from the global confrontation between Russia and the United States, nothing bad can happen in the world. Therefore, they don't even want to talk about the use of aircraft carrier units in low-intensity conflicts. To this they have a crown objection: "Well, are we not going to bomb the Papuans ?!"
However, as the experience of the same Americans shows, this is a very profitable and useful occupation. And given that we are often confronted by bearded Papuans with a huge arsenal of various weapons and considerable experience of subversive activities, and we unfortunately do not have military bases around the world, our own means of action should be quite impressive.
The Syrian conflict, among other things, clearly showed us one important thing: even with the current intensity of the confrontation between the Russian Federation and the flagships of the conditional West, no one is in a hurry to transfer the conflict between the main players from the political plane to the military. We are not embarrassed, lupim pro-American militants, and their masters in their rare retaliatory actions are trying with all their might not to accidentally hurt the Russian military. It is safe to say that the accuracy of Americans would only increase if a full-fledged Russian aircraft carrier was somewhere nearby.
That is one of the basic theses of the opponents of aircraft carriers, saying that we can not use them for their intended purpose, and if we try, they will be immediately drowned, is extremely doubtful. No, you can drown the aircraft carrier, we will not argue with that. But this is already such a level of escalation, for which it is possible to answer both with our own ships and military bases. And this is a gentle option. There is another that President Putin recently voiced, and which reads almost literally: why do we need a world in which Russia will not be?
Like it or not, Russia is a nuclear power. And we will be able to apply any tools of political or military pressure until the costs for another nuclear power are large enough for it to decide on suicide.
Let us leave the purely technical aspect of confronting aircraft carrier formations and anti-ship missiles to specialized specialists. But let's remember that the American aircraft carriers for all the postwar years did not suffer combat losses. And there were a lot of conflicts with their participation, and they were opposed not only by the "Papuans" with Berdanks, but also by Saddam's Iraq, for example. That is, of course, it is possible to drown an aircraft carrier with an anti-ship missile. But delivering it to the launch distance is a daunting task ...
Let us, for clarity, try to simulate a situation where an aircraft carrier could be very useful to us. Everyone remembers, probably, the beginning of the "Arab spring" and the events in Egypt? Now imagine that power is seized there not by the moderate wing of the Muslim Brotherhood (banned in Russia), but by some radical group. And tens of thousands of Russian tourists suddenly become hostages.
And then everything could develop very sadly. For example, Russia could put up unacceptable political demands such as recognition of the sovereignty of Muslim republics within the Russian Federation and begin shooting hostages in response to our refusal.
Yes, this is a very scary scenario. And in the current situation, it smells of hopelessness - there are no military solutions to the crisis, the fulfillment of requirements is politically unacceptable, there is almost no hope of effective assistance from other states. Theoretically, we could probably count on Israel's help (which he would ask in return, this is a separate question), but if he refused, we would have to watch hundreds or thousands of Russians cut off their heads live.
With an aircraft carrier within reach, the situation no longer looks so hopeless. In this case, the deck
aviation
could suppress air defense and rebel aviation, after which it would be possible to land the Pskov Airborne Division in Hurghada and try to evacuate our citizens from there.
Of course, I know that not only Hurghada is popular with our tourists. As well as I understand that such an operation can cost thousands of paratroopers. But the author intentionally simplifies an already rather dreadful situation, and he can probably be understood.
Another argument by opponents of the appearance of a full-fledged carrier-based fleet in the Russian Federation is the issue price and the economic feasibility of such a decision.
This argument is much more serious. Russia really is not an economic giant. And if we spend billions on aircraft carriers, shipbuilding infrastructure, new carrier-based aircraft, and so on, I would like to be sure that this money will be spent with maximum benefit.
Moreover, there is evidence that even at the headquarters of the Navy we do not have a clear understanding of why we need aircraft carriers and what the appearance of the ship we are developing should be. You can often hear, for example, that we need an aircraft carrier to cover the combat deployment areas of our strategic nuclear submarines. It sounds solid, but only at first glance.
For the combat deployment of our strategic submarine forces, a radius of several hundred kilometers from our bases is sufficient, since the range of sea-based ballistic missiles allows us to reach the adversary from there. For a deep, saturated defense of this zone, we are much more suitable not for an aircraft carrier, but for several naval aviation regiments, Su-34-type attack aircraft, fighters and anti-submarine ships. It is clear that if the funds necessary for the construction of an aircraft carrier fleet are invested precisely in these areas, then it is possible to achieve a multiple increase in the efficiency of investments. Yes, and will remain on a good dozen diesel submarines, sharpened by hunting enemy submarines.
And if this idea prevails here, protection of the port territories is above all, we really do not have the sense to make such an expensive garden.
The appearance of the carrier fleet in our country will be all the more justified, the less we will tremble over every penny and be afraid of the ambitiousness of entering the World Ocean as a full-fledged, powerful and somewhere even aggressive player. There are no mini-aircraft carriers, trial versions, air defense aircraft carriers and other flawed options - they will be a waste of money, waste, and water spilled into the sand.
Special gigantomania probably should not suffer either. We would have something normal like "Nimitz". So that he could carry fighter-bombers, DRLO, EW aircraft. And so that in such a quantity that little would seem to neither the terrorists, nor those who are hiding behind their backs ...
And the last argument: efficiency. Well, think of it, an aircraft carrier, say skeptics. What can he, this aircraft carrier?
I am sure that most of the adequate people who are familiar with military subjects are well aware that a good, full-fledged aircraft carrier can. But for the most suspicious, another argument is the Syrian one.
Analyzing the actions of the Russian Aerospace Forces in Syria, it is difficult to get rid of the idea that this whole campaign, as if on purpose, shows us the possibility of using just one aircraft carrier. Here and the number of aircraft involved in the conflict on our part - rarely when there were more 50-60 units. And it is quite comparable with a good aircraft carrier wing. The intensity of departures is also appropriate - 1-2 per day on board, which is quite normal for an aircraft carrier. Even the radius of the use of aviation from the Hmeimim base is quite suitable - rarely when more than five hundred kilometers, which fully and even with a reserve corresponds to the capabilities of modern carrier-based aviation.
It is clear that there were still helicopters, and indeed the Syrian aviation itself came to life a bit after the appearance of our VKS in the sky. And nevertheless, let us be frank, if any Russian aircraft carrier figured in official reports instead of the base Khmeimim, the situation would hardly have developed otherwise.
Add to this the mobility of the AUG, its independence from the favor of the leadership of a country, the remoteness and protection from any land saboteurs / terrorists, and you will understand that this is a very useful tool. Which we, of course, would be very nice to have in our arsenal ...
Recently, quite a few adequate signals have appeared that indicate that the leadership of the country and the Navy are dominated by bright minds who understand the need for the Russian aircraft carrier fleet. Now it is important that, for the sake of various compromise lovers, it is not yet castrated at the design stage.
And the shouts of "Ninuzhin fleet, Rasiya sukhaputnaya conduction!" Will be heard for a long time.
But if we want to be not only a land, but also a great power, we also cannot do without an ocean fleet ...