Опыт
stories
teaches that the ladder of escalation of military conflicts is far from being as controlled as it seems to some.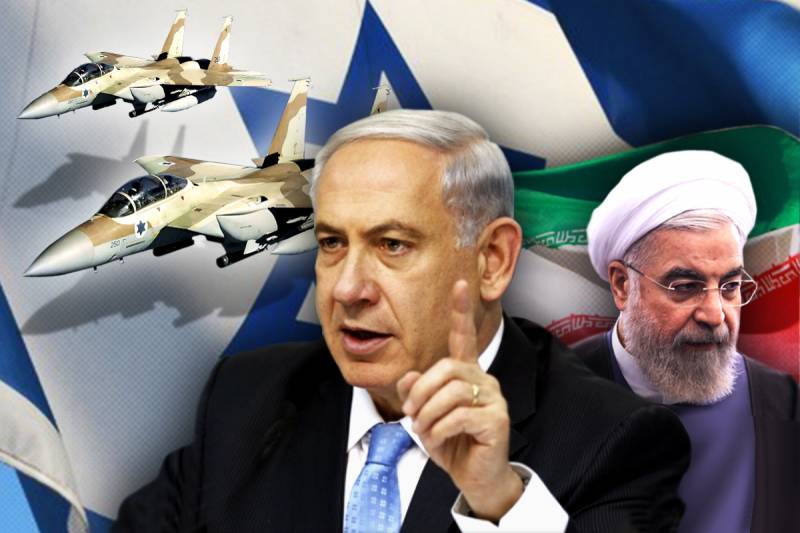 The Israeli command is not accidentally modest, refusing to admit its responsibility for strikes against Iranian military bases in Syria. And the matter is not at all in the "traditional policy of refusing to comment on such events." Everything is much more serious.
For Israel, as sad as it sounds, is playing a very risky game. And the degree of this risk is such that there is practically no doubt that the Israeli leaders have already decided on their future strategy and made their stakes. At first glance it may seem that this strategy is reckless. Indeed, if we assume that Israel is not interested in a large-scale confrontation with Iran, then its behavior looks illogical.
It is hardly worth taking for granted the speculation about certain "limited actions" required by Israel, so that Iran would keep itself on Syrian territory in a certain framework that is safe for Israel. For
aviation
striking Iran's military bases in Syria is not at all a tool that can guarantee Israel military security.
Equally ephemeral are his hopes, if they exist at all, on the deterrent influence of Moscow in relation to its Iranian ally. First, because the allied relations between the Russian Federation and the Republic of Ingushetia are quite opportunistic and subject to fluctuations. And secondly, Iran considers itself an equal-sized Russian power and is unlikely to listen to its advice if it considers the situation to require an adequate response. And here, Moscow will not help Israel at all.
In other words, the situation is such that the Iranian-Israeli military confrontation may break out at any time. And this in itself excludes the version of spontaneity and the limited goals of such attacks. In addition, given the extreme ambition and intransigence of both sides, this collision can quickly grow to the scale of a major regional war.
Moreover, the current Israeli "attacks" on Iran may well be a consequence of the implementation of the very popular in Israel doctrine of preventive destruction of the Iranian military potential even before it presents an existential threat to it. It cannot be ruled out that these attacks are quite deliberately inflicted with the aim of compelling Iran to respond and in such a way bring the timing of a preemptive massive strike against this country, against which the United States will certainly be involved in military actions. Moreover, they themselves may be interested in such a development of events. Especially in view of Washington's growing claims to a nuclear deal with Tehran and a clearly growing willingness to drastically change its course in the Iranian direction in the direction of greater confrontation. It is hardly a coincidence that the Israeli attacks on Iranian objects in Syria have become much more frequent recently, strictly in sync with the intensification of American anti-Iranian rhetoric. And with the preparations for the opening of the American Embassy in Jerusalem.
At the same time, such a tiny state like Israel will react extremely painfully to any attempts to strike blows at its territory and will respond to them with the greatest possible force. Until the use of nuclear missile
weapons
in service with him. All these years the Israeli Air Forces have been intensively engaged in combat training in Bulgaria, the distance to which is exactly the same as to Iran. And it is clear that the Israeli pilots will not risk their lives overcoming the Iranian C-300 barrier only in order to throw a couple of ordinary bombs on some Iranian city. Moreover, the strategic means of the missile attack of the Iranian Armed Forces are located in rock shelters under the ground and are generally immune from the usual bombardment.
As for the measure of the political determination of the Israeli leadership to use such extreme means as nuclear weapons, I would not recommend anyone to doubt it. In the event of any situation that this guide deems threatening the country's existence, and this is a very wide range of possible threats, decisions can be made without the slightest hesitation.
In this regard, it is worth recalling one very indicative case. Some time ago, in 2009, a serious incident arose between the Russian Federation and Israel involving the alleged sending of C-300 missiles to Iran by sea. This very muddy story is still covered with a veil of almost impenetrable secrets. However, something to hide all the same failed. In particular, the fact that the ship "Arctic Sea", allegedly carrying these missiles, was attacked directly into the sea by some mysterious forces. And Israeli Prime Minister Netanyahu urgently flew to the then Russian President Medvedev and had a very tough conversation with him, during which, according to some sources, a rather ominous phrase allegedly sounded from his lips: "If we have to, we will take the whole world with us!"
Whether it was said or not, in the context of the then Israeli threats to launch a nuclear strike on Iran, it is not known for certain. But it is worth recalling that even today Netanyahu, who has long been known as a man of extremely radical and uncompromising views, is working for Israel's prime minister.
Thus, the Iran-Israel war, which is quite probable and even logical in the event that Israeli aircraft continue to attack Iran's military facilities in Syria, can very quickly enter the nuclear missile phase.
And although Iran does not officially have nuclear weapons, it certainly has, like any large enough country, other means will be found to effectively counter its Israeli counterpart. The radius of action of Iranian ballistic missiles grows literally from launch to launch. And the Iranian troops are already in one day's transition from the Israeli border.
In other words, such a war, regardless of the plans of the parties, will inevitably raise the question of the future existence of Israel. And this is exactly the "red line", at which achievement his main ally, the United States, even with all the desire, even if they have one, which is extremely doubtful, will not be able to stand aside. Accordingly, the great Middle Eastern war, after the direct inclusion of America into it, will inevitably take on the character of quasi-peace.
Meanwhile, Iran in the modern world plays the role of one of the main pillars of modern anti-hegemonism, on the side of which dozens of countries of the world, led by Russia, China and the same Iran, openly or covertly act. That is, we will talk about the threat of the destruction of one of these supporting structures, without which the entire building of the modern world order could collapse.
Will Russia and China be ready in such critical conditions to show restraint and take a position of non-interference in the process of beating Iran? I can only say that this is far from a fact. If only because, having made a gap of such a large size on an anti-Western front, the West will certainly not stop at this and will further increase the pressure on the remaining geopolitical competitors. That is, the situation will seriously deteriorate for the main opponents of the United States. I'm not sure that Moscow and Beijing are ready to tolerate the risk of such a deterioration. Consequently, the probability of their involvement in a large showdown around Iran is far from zero. And in this case, a quasi-world war will very quickly become just a third world war.
Of course, it will be a disaster, which, in principle, no one wants. However, there is such a concept in the theory of military conflicts as the "escalation ladder", the ascent of the steps of which is not always amenable to effective control. A very large element, especially in the confusion of a military confrontation, is an element of spontaneous response to attacks and threats with even more powerful attacks and threats. And so on until the very end. Has anyone in August 1914 thought that killing just one person, even the heir to the Austro-Hungarian throne, would ultimately lead to the death of tens of millions of people? Of course no! That is why so easily and vigorously humanity stepped into this bottomless abyss.
More than a hundred years ago, one revolver and one corpse was enough to start the world massacre. What to speak about the present day, when instead of a revolver bombers with bombs and rockets are used, and the corpses are multiplying almost exponentially? In such a situation, it is clearly not necessary to count on the unresponsive long-suffering of the beating party. And I would even say that today we are much closer to something like August 1914, than Europe of that time. I would, of course, be mistaken. Here are just a reason for this.