What threatens the relations of Yerevan and Moscow? Pashinyan's Comments
Nothing threatens Armenian-Russian relations, reports
RIA News
statement of the leader of the protests in Armenia Nikol Pashinyan after his meeting with Russian deputies led by the chairman of the Duma committee on CIS affairs, Eurasian integration and relations with compatriots Leonid Kalashnikov.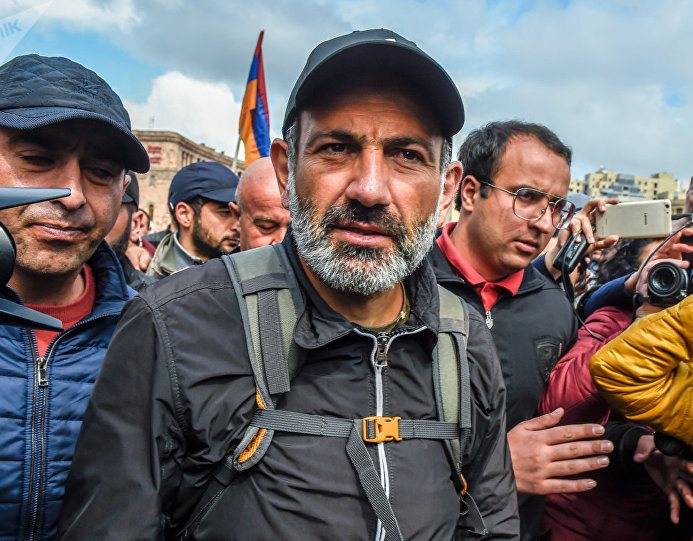 Today we had a conversation with the deputies of the State Duma. They had questions, we answered them. The main message was that in this process there is no geopolitical conspiracy against Russia, there will be no geopolitical reverses, and nothing threatens Armenian-Russian relations,
said Pashinyan.
Earlier, a spokesman for the Civil Contract party led by Pashinyan, Tigran Avinyan, said that the meeting with the Russian parliamentarians "was held in a very constructive atmosphere."
"After the refusal of all factions of the Armenian parliament, except the Yelk faction (Exodus) headed by Pashinyan, to nominate candidates for the post of prime minister, he became the only candidate. However, the opposition member needs 53 votes from 105 to be elected. Therefore, not only the Yelk faction, the Tsarukyan and Dashnaktsutyun blocs should vote for him, but also some of the deputies of the ruling Republican Party of Armenia (RPA), "explains the agency.
The issue of electing the prime minister will be considered by the Armenian parliament on May 1.
Recall that actions against the election of ex-President Sargsyan as prime minister began in Armenia on April 13. The opposition accuses Sargsyan, who was twice elected to the presidency, of poor management and the deterioration of the economic situation in the country. 23 April, Sargsyan resigned.
ru.armeniasputnik.am / Asatur Yesayants